This weekend has been a fun and busy on!
Before starting I wanted to mention that all last week we were under a boil water advisory. On Monday afternoon a 48″ diameter piper burst. While it was repaired by Wednesday night, the testing took longer than expected, so the advisory wasn't lifted until Sunday afternoon. As annoying as it was needing to boil water (and not being able to give the girls baths since they tend to drink the water), I'm thankful we had water that was safe to consume after boiling it. There are many areas in the world who don't even have that.
THURSDAY
While I know that Thursday isn't really the weekend, I still wanted to share the fun we had! Before we headed to dance class the girls and I made a stop at Kroger for their Trick or Treat event. We kinda had to hustle through it since we needed to get ourselves to dance, but the girls had a blast.

I also continued work on the cookies I was brining to my neighbors house for thier party on Saturday.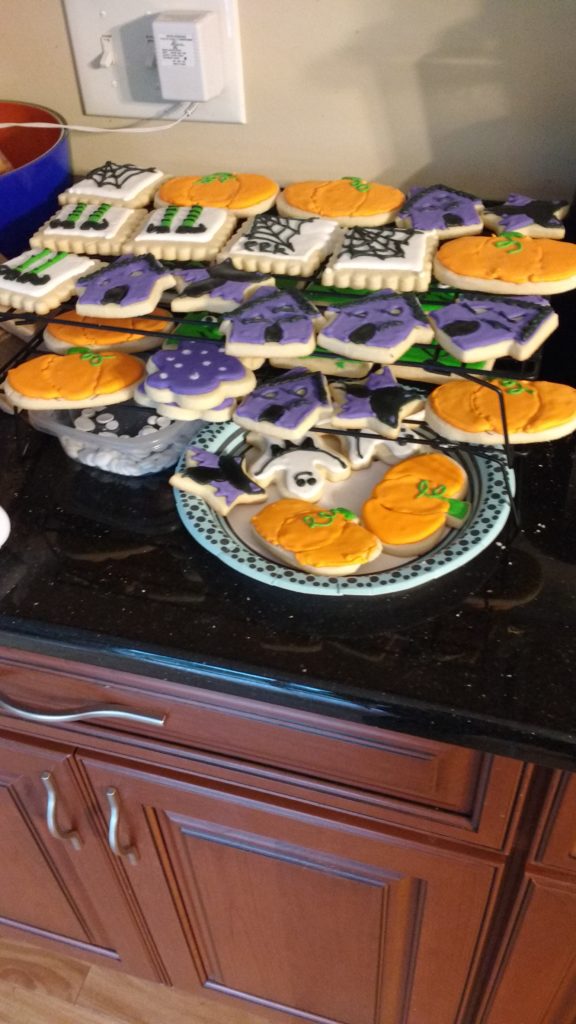 FRIDAY
On Friday we hosted a cookie decorating play date in the afternoon. I had six kids decorating cookies, plus one sweet baby here for the party (with their moms too). I'm finally getting active in my Mom's club again, so it was nice to see some old friends, and meet a new one.  Plus Annabelle was so excited to see her friend Sammi.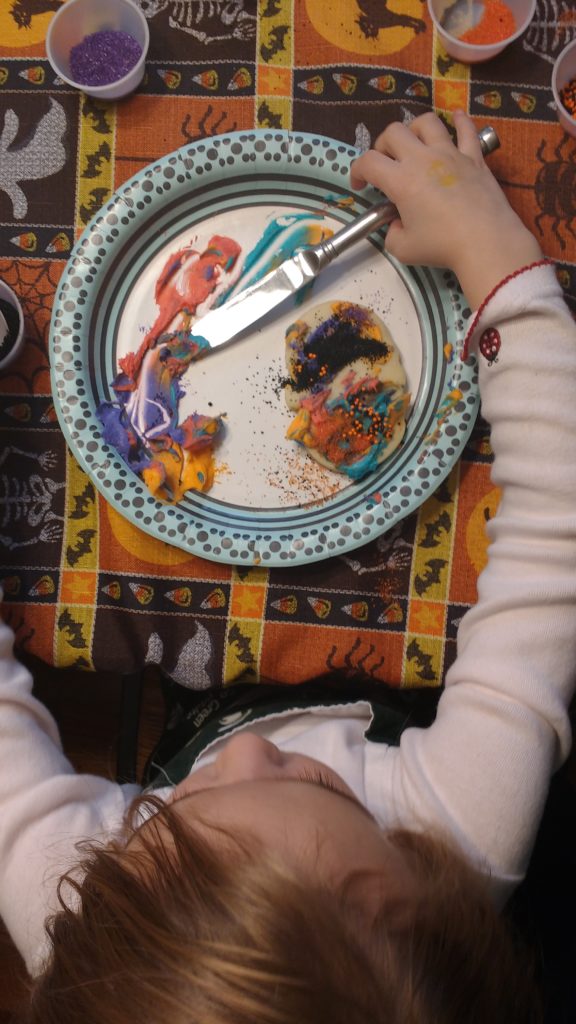 That night Annabelle and I headed to the Marquis Theater with our neighbors to see a show. The shows are made with kids in mind, and the performers are middle and high schoolers. While the plays have been a take on fairy tales in the past, this play was Halloween Surprise, and included many of the Halloween songs we've been listening to on Pandora (because they loop like the same ten songs on loop.  And we've been listening since October 1st). At any rate, I love the friendship these girls have!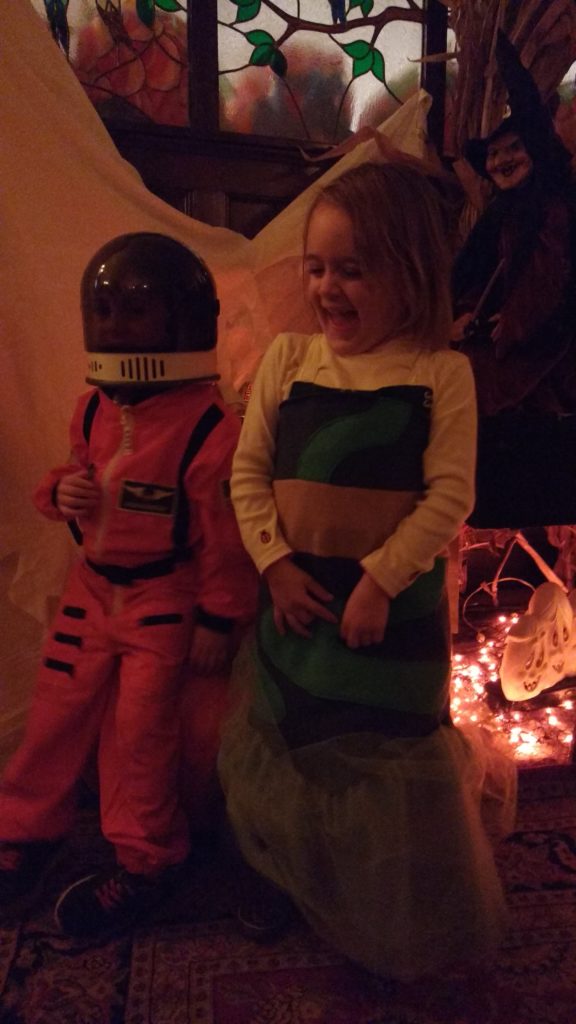 SATURDAY
On Saturday I woke up and finally started on my costume! I had all the materials I needed, I just needed to hustle to get it done. We also took the girls to my MILs so that we could bathe them. I lucked out and she bathed them, while I just sat in silence watching some football.
Saturday afternoon/evening it was off to our neighbors (the same who we went to the show with last night) for a Halloween party. There were so many kids, and so much fun had by all.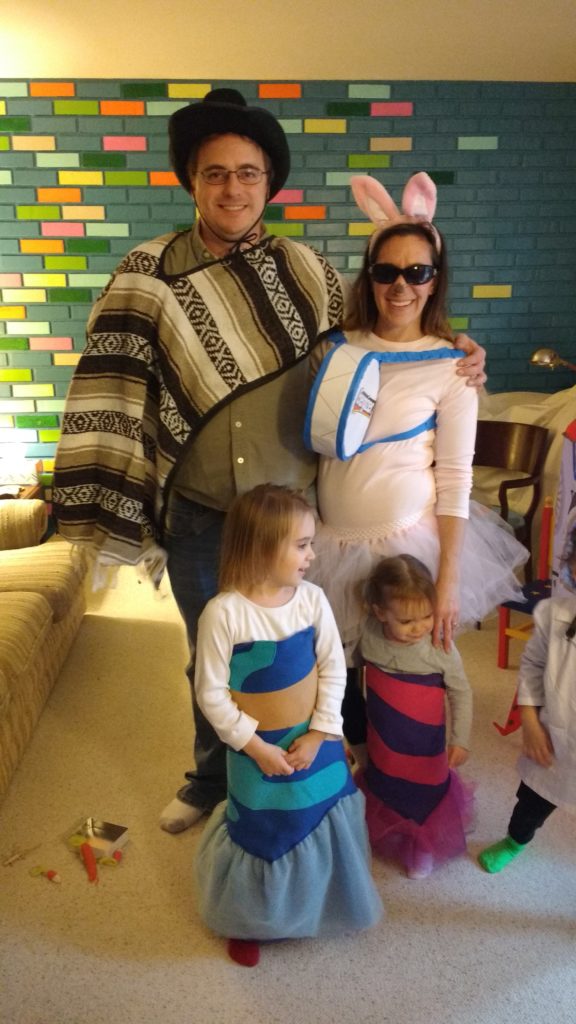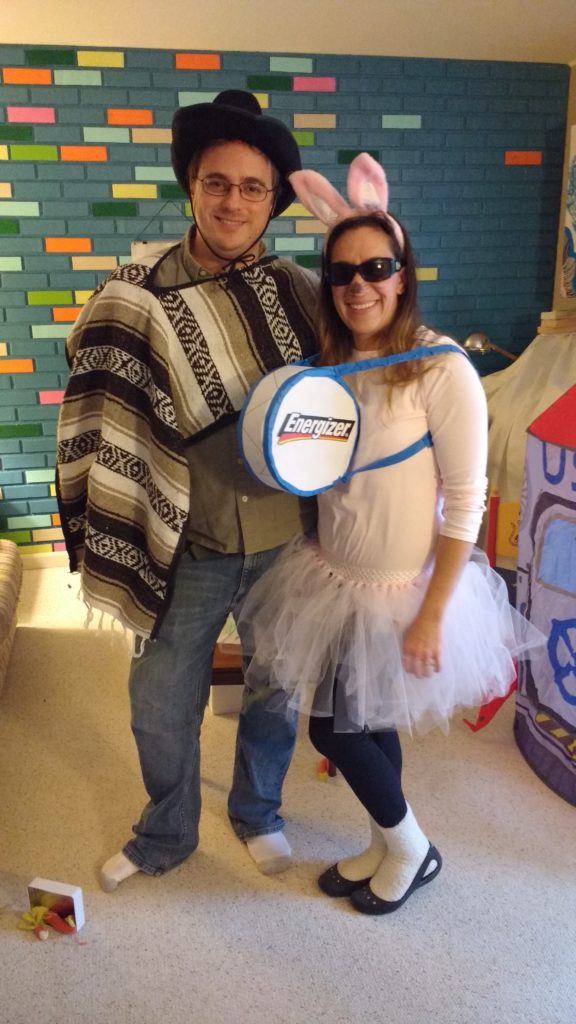 Can I just say how proud I am for busting this costume out?  I finished the skirt in the morning, then got the drum done while Autumn napped.  The only thing I didn't finish was the leg warmers I was crocheting.  They were like 75% done, so I had to improvise a bit.
For those of you who don't know, Annabelle and Autumn are Bubble Guppies.  Annabelle is Molly, and Autumn in Oona.
I brought some decorated sugar cookies, and baked cider donuts for a hands free donut eating contest, which was so much fun to watch.  And since we had some donuts left over, the adults got to get in on the fun too.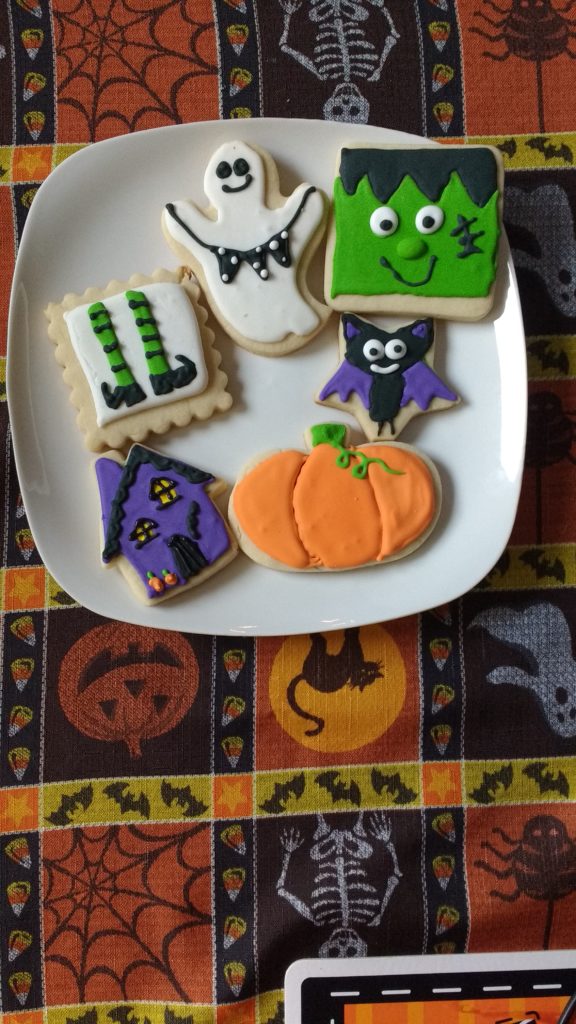 It was a blast, but we had to leave a bit early since the kids were on the verge of a melt down. I think all the kids was a bit overwhelming for Annabelle.
SUNDAY
Sunday morning we headed to church, then came home to relax a bit. While Autumn was napping Annabelle and I headed to my parents for the "Spooky" walk in the woods put on by their neighborhood. This has been a tradition since I was a child, so I love that Annabelle gets to experience it too!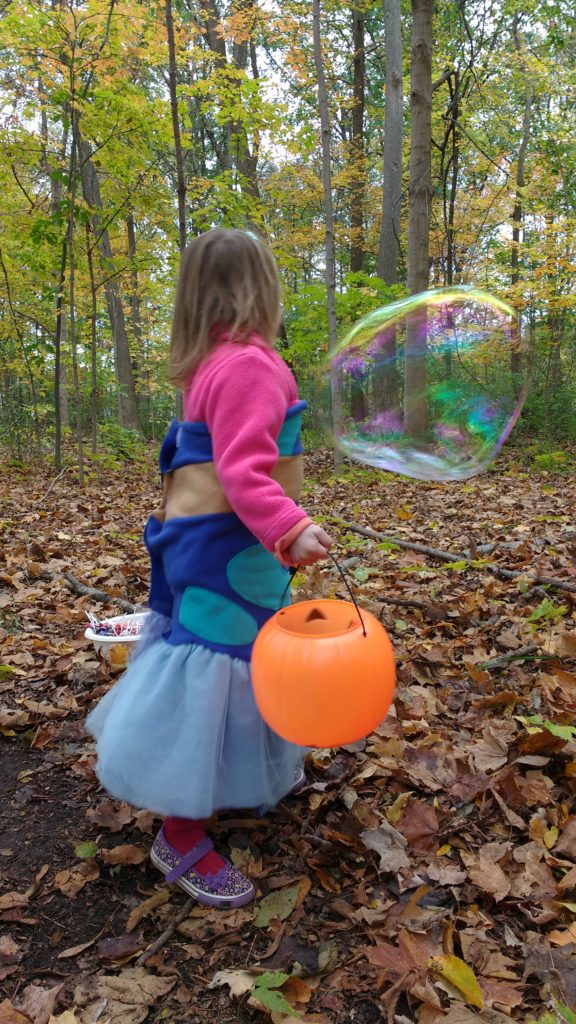 So as you can see a super busy weekend! Today my mom (and maybe dad) will be coming over after school to carve pumpkins with us, then of course Halloween is tomorrow!