Can you believe that is is already October? Like where has the year gone??  This may be totally #basic but September-December are my favorite months.  Between all the holidays and fun activities, I just can't get enough.
I have a confession.  I haven't looked at my goals from September at all.  Like, this post is the first time I will be looking at them since writing them last month.  I'm going to blame it on the fact that the start of school and all the activities was a bit harder to adjust too than I thought it would be.  So with that said, lets take a look….
BLOG
~reach 8k pageviews: didn't get to this at all, I got about 5500, which isn't too shabby, but way lower than my past few months.  I'm trying to take it in stride, and chalk it up to the start of school (and the fact that my social media presence as been a bit sub par)
~build Pinterest following: I got a few more followers, but nothing major.  I suppose I should actually research how to do this.
~organize Boardboosters
~look more into growing instagram: yeah…. nope.  To be honest I go back and forth between wanting to grow my IG and being like f-it (utter honesty there)
~be ok with not doing FB share groups every day: I am proud of myself for scaling back my involvement in FB groups.  This is another reason why I think my pageviews kinda plummeted.
~post another felt doll: I completely forgot about these!  I got a bunch of the felt cut out, but haven't sewed up a new one yet.
~participate in dresstember: I did this!  Come back on the 10th to see what I wore! 🙂
PERSONAL
~balance time now that Annabelle is going to school: I wish I could say yes, but I still kinda feel like a chicken with my head cut off.
~go on a date night: nope
~sew Annabelle and Autumn a Halloween dress: I did sew Annabelle a dress, and am in the process of sewing one for Autumn.
~start on Halloween costume: I bought some fabric, that counts right?
FITNESS
~ work out 5xs a week: except for the few days where I was feeling really awful yes!
~ try adding a run on a day that Annabelle has school: yeah… I was totally out of my mind when I put that down.  After Autumn and I drop Annabelle off, it's either errand time, or cleaning time.
~ healthy snacks: I did this…. ish.  I've munched on apples and pretzels and have limited my wine intake.
~ find some new weight training ideas: nope
So, all in all not too shabby.  I just really need to remember to actually look at my goals… Now onto October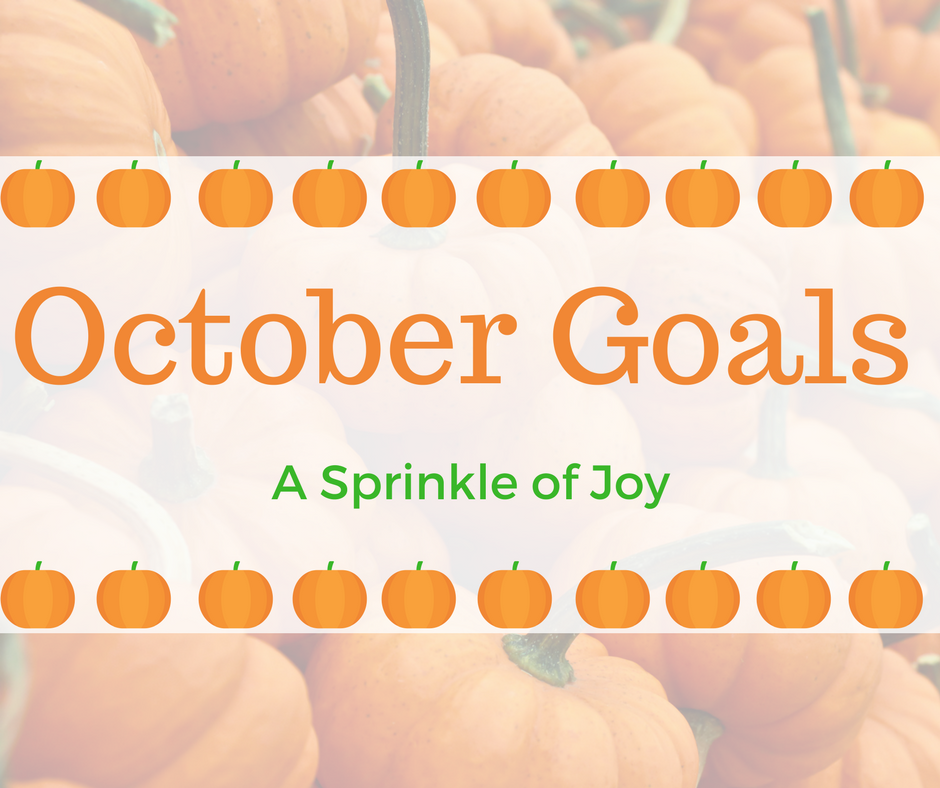 BLOG:
~ figure out a schedule/ time management that allows
~ participate in fall photo challenge
~ Get older posts on Pinterest (like Thanksgiving/Halloween)
~ cut myself some slack and remember not every post has to be "pinterest worthy", and that it's ok to take a step back
PERSONAL:
~ host a Halloween play date
~ carve pumpkins
~ roast pumpkin seeds
~ Finish costumes
~ sew more
~ organize all my photos
~ stay on top of cleaning
FITNESS:
~ continue work outs
~ limit booze intake (not that I drink a ton, but if I want to drop a few pounds I gotta mind what I put in my body).
~ Lose 5 pounds
~ but… also remember it's not all about the scale