** This post contains affiliate links. If you chose to purchase an item using the link in this post I will make a small commission. Thank you for your support if you do!**
You know one of the things I love about summer?
That it's grilling season!
I love food from the grill.  Not only does the hubby grill it, but it's tasty too!  Plus there is usually little clean up involved.
I also love basil and fresh mozzarella.
That's where these grilled chicken caprese kabobs enter.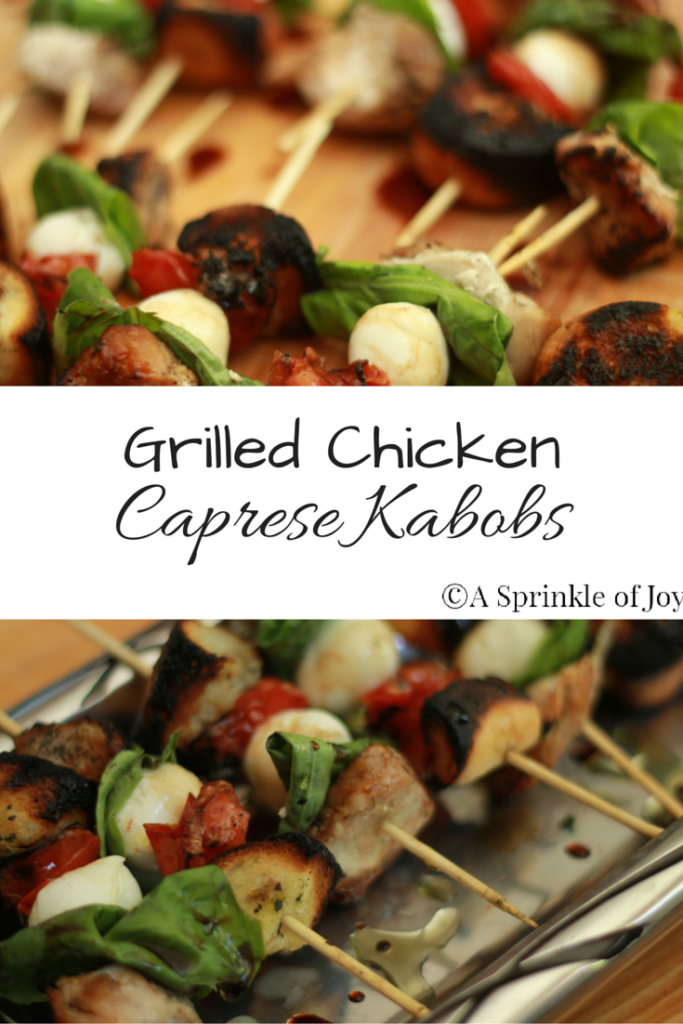 A few simple yummy ingredients come together to make these super easy kabobs.

Seriously folks, how tasty to those kabobs look?
The fact that they are pretty easy to make is an added bonus.

All you need to do is grill some chicken, crusty bread (I used Italian bread, and coated it with olive oil and some salt) and tomatoes.
When I my husband grills meat he uses these grilling baskets:

They work super well, and you don't have to take the time to put the meat on the skwers. They also hold a lot of meat. You can check these
 ones out too.
Put those on some skewers, add fresh mozzarella and basil and you have a simple and fresh snack.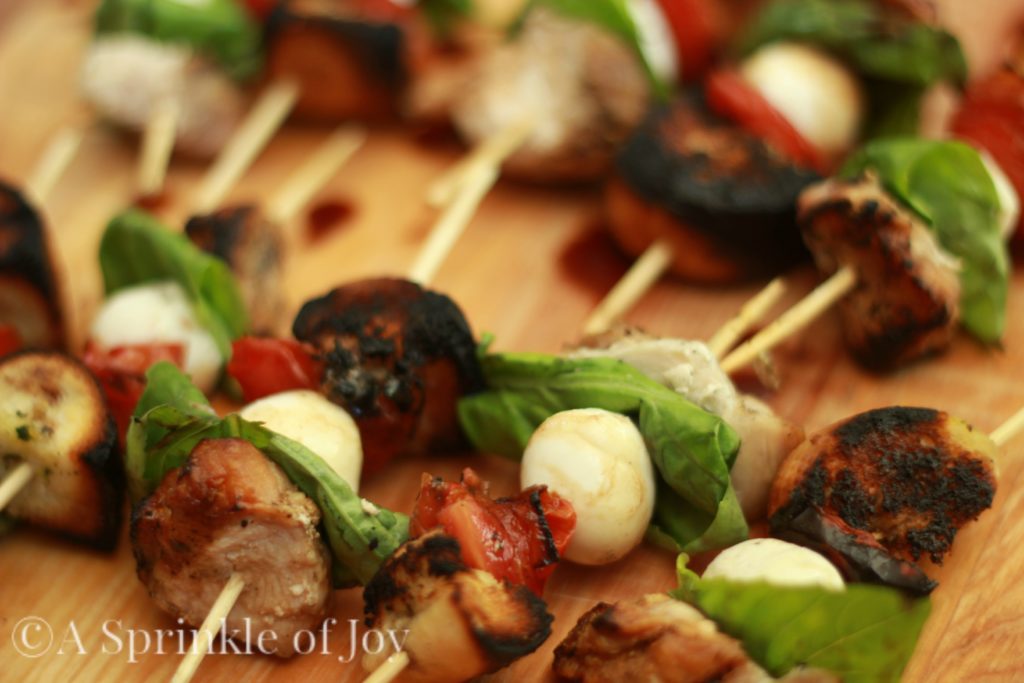 You could serve them as an appetizer.
Put them in a salad, or over noddles.
You could even bring them on a picnic lunch.
The possibilities are endless!
So go grab the ingredients and make your own today!  Be sure to tag me (@a_sprinkle_of_joy) if you post any pictures on Instagram!  I'd love seeing how you enjoyed these.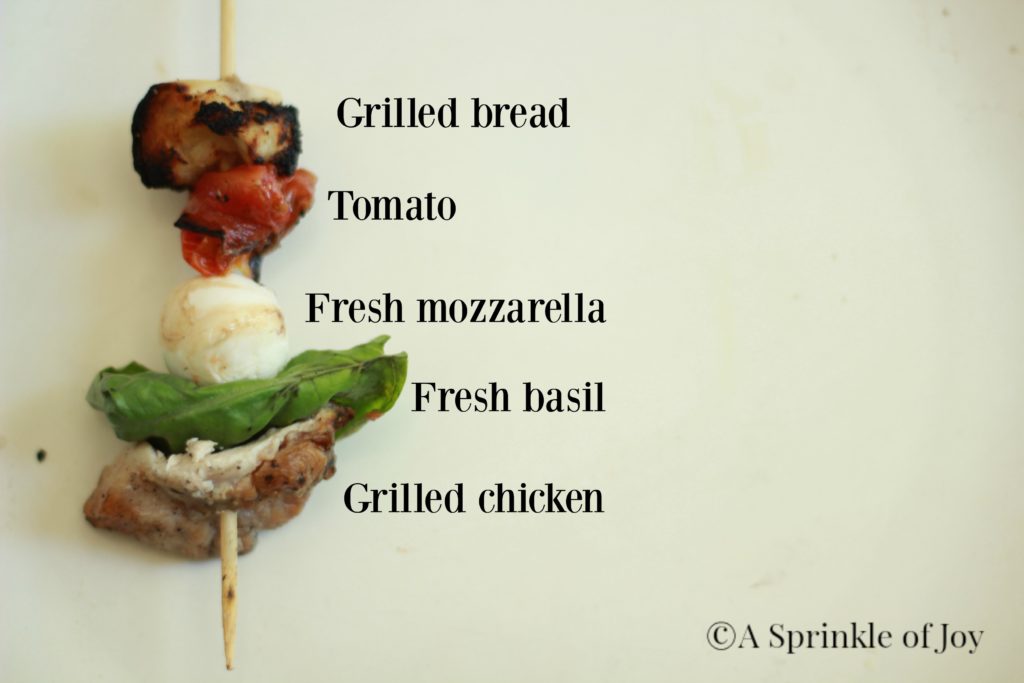 Check out these #simple and #yummy grilled #chicken caprese kabobs! #summer #blogger
Click To Tweet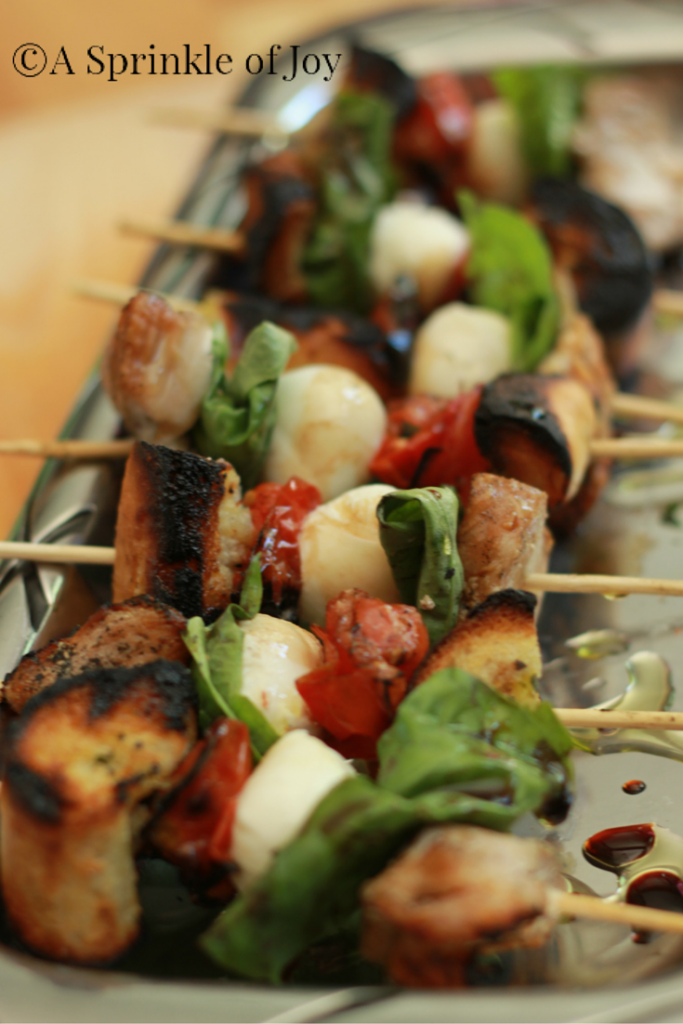 chicken

tomatoes

loaf of bread

fresh mozzarella

I buy the cherry size balls

fresh basil

balsamic vinegar
Cut chicken into cube and grill until cooked through. You can either use skewer (if using bamboo ones be sure to soak in water first) or baskets.

While chicken is grilling, cut bread and tomatoes into bite size pieces. Place on separate skewers and grill until slightly chard.

Once chicken, tomatoes, and bread is done being grilled assemble your kabobs! I did bread, tomato, mozzarella, basil, chicken.

Drizzle with balsamic vinegar and enjoy!