**This post contains affiliate links. By purchasing the item linked I make a small commission.  Thank you for any support! **
It's hard to believe that we are already half way through August! Before we know it September will be here, and bring with it the glorious season of Fall.
Fall
Football, cool weather, apple orchards, cider, Halloween…
Y'all I could go on and on.  I. Love. Fall!
Before I go on any further, I have a confession.
I'm not a huge pumpkin fan.
I hear the collective gasp of the internet, but it's true.  While everyone is scrambling to get their pumpkin spice latte, I am waiting for the peppermint mocha.
Pumpkin pie is OK, but you know what, if there isn't chocolate then why bother?!
Enter this cheesecake.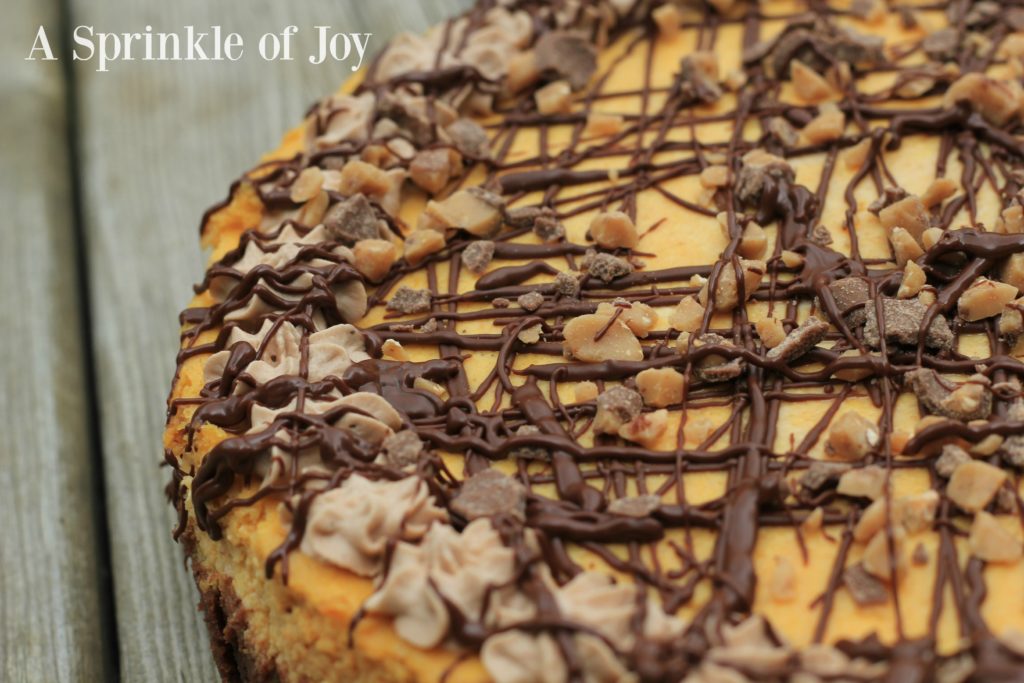 It's got a hint of pumpkin flavor with some yummy chocolate too.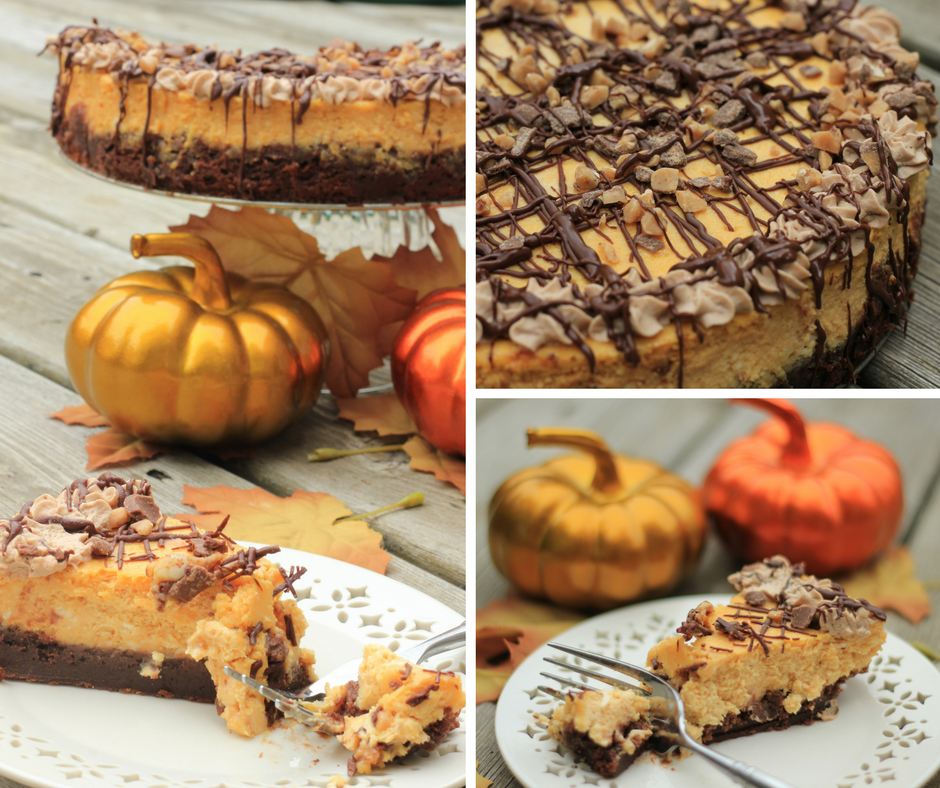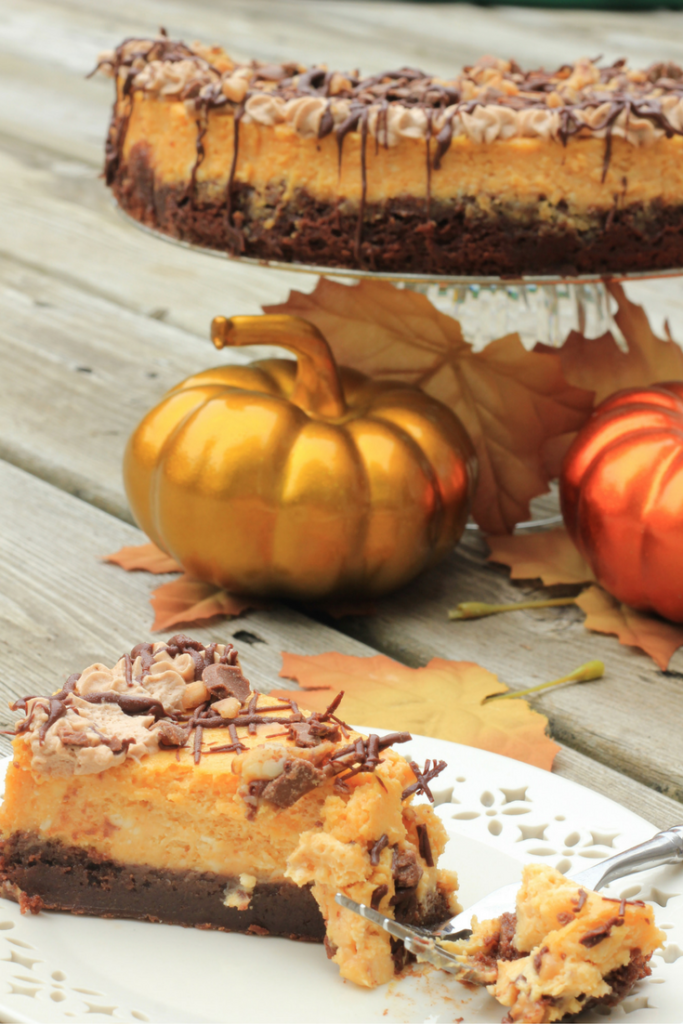 While it may look fancy, it comes together very easily.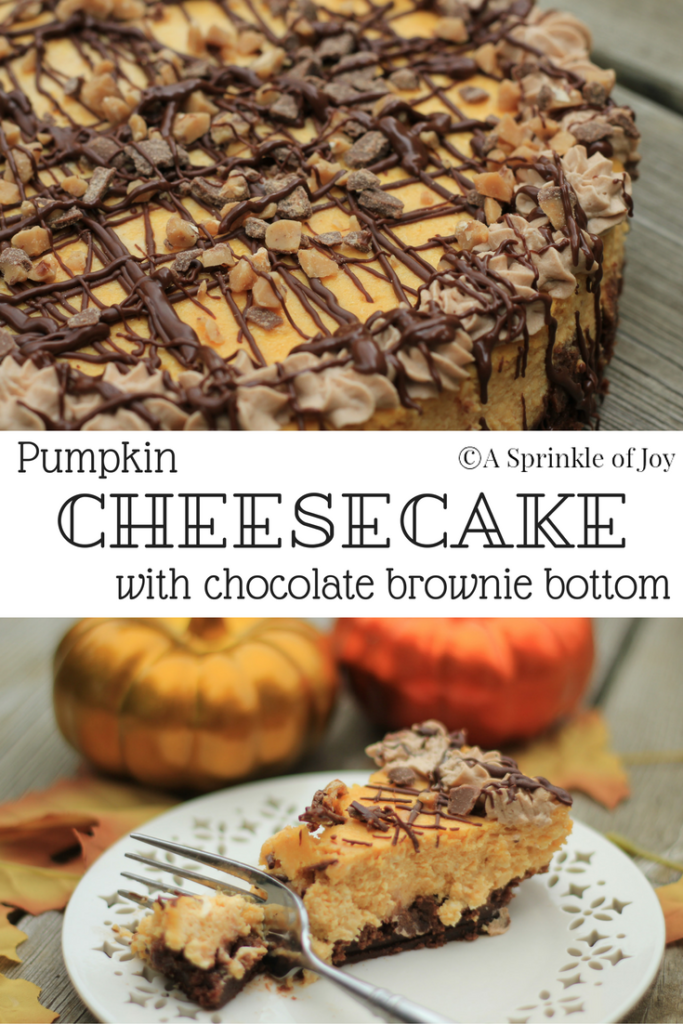 It's a great dish to bring to a fall party.  Something a little different, that still tastes delicious.  We had my parents over for dinner and I served this for desert.  They approved (of course they could have just been being nice).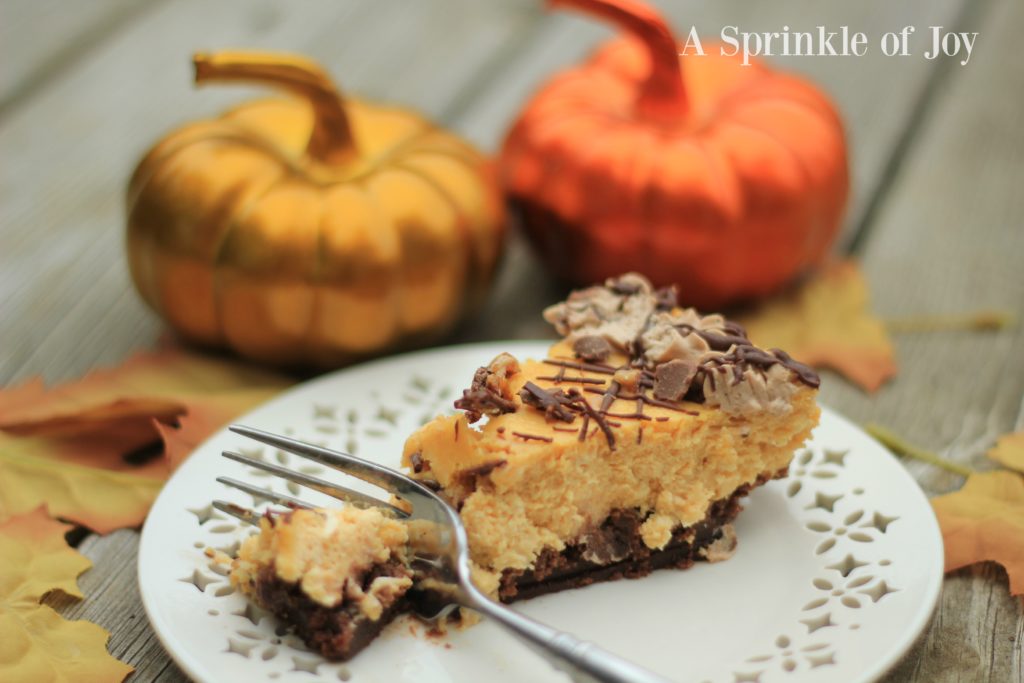 Now I didn't take any pictures while making it (mainly because I had little hands helping, and it can be tricky to take decent pictures while supervising), but I hope the directions are clear enough.
This recipe requires a 8-Inch springform pan
.  There are a few steps in making it, but it really isn't hard!
2

8 oz packs

cream cheese

1/2

cup

white sugar

1/4

cup

brown sugar

1/2

cup

pumpkin puree

3

eggs

1/4

cup

yogurt

1

tablespoon

vanilla
1/2

cup

chocolate chips

1

tablespoon

shortening

3/4

cup

whipping cream

1/4

cup

powder sugar

1

tablespoon

cocoa powder

1/4

cup

Heath toffee pieces
Preheat oven to 350 degrees. Grease the bottom of a 8 inch spring form pan. Line outside of pan in tin foil to avoid any leakage.

Mix brownies according to package/recipe. Spread in the bottom of the spring form pan and bake 20-30 minutes or until brownies are done.

While brownies are baking, start the cheesecake layer by beating the cream cheese in a stand mixer with the paddle attachment.

Add both sugars and beat until fluffy, scraping down sides of the bowl as needed.

Add the pumpkin puree, yogurt and vanilla.

Beat in the eggs, one at a time.

Pour cheese cake layer over the baked brownie layer (it does not have to be cool).

Reduce oven to 325 degrees and bake for an hour to an hour and 15 minutes, or until cake is almost set.

Turn off oven, crack open oven door, and let cake sit in oven for an additional 30-45 minutes.

Take cake out and refrigerate overnight.

The next morning, place a mixing bowl and whisk attachment in freezer for 10-15 minutes.

After, take bowl out, and whip whipping cream until it starts to get thick.

Add powder sugar and cocoa and continue to whip until peaks form.

Pour into a piping bag, and pipe rosettes around the outside of the cake.

Melt chocolate and shortening in a bag. Clip corner and drizzle over the cake. Finish by sprinkling Heath toffee pieces over the cake.