I'm joining up with The Blended Blog for their monthly link up. This month it's all focused on Christmas!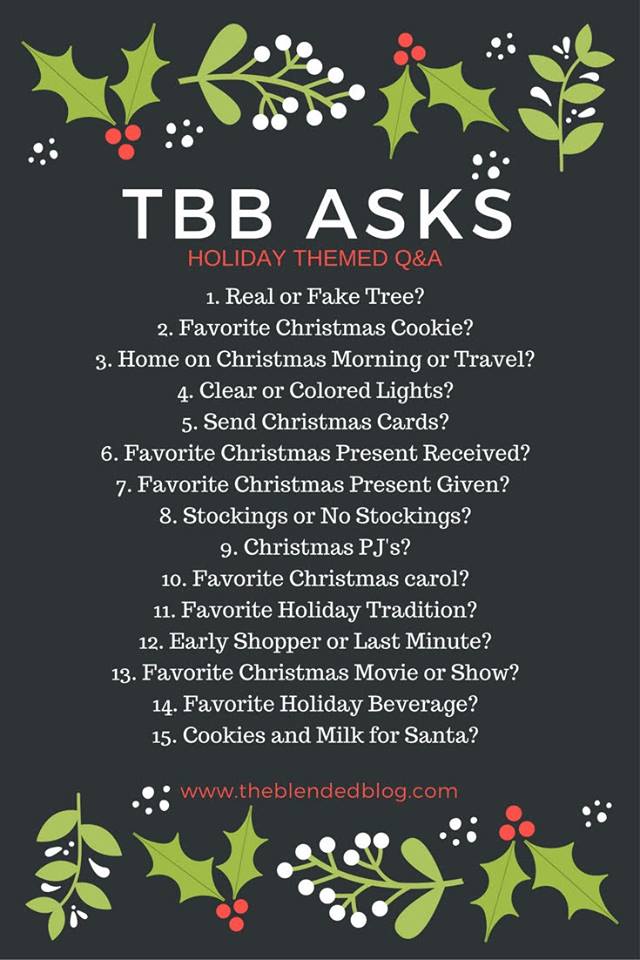 1. Real or fake tree?
A fake one. While I would love a real one, Matt says no way. And I get it. We had a real tree growing up, and it was a ton of work. Plus pretty sure our cats would try to eat it (since they try to eat the fake one) and get sick.
2. Favorite Christmas Cookie?
Just one?! I would have to say it is a toss up between the Chinese new year cookies (also known as haystacks) or magic cookie bars.
3. Home on Christmas morning or travel?
Home for the morning. Then to my relatives in the afternoon.
4. Clear or color light?
We have color lights on our tree, which I love, but I actually kind of want clear lights. And warm white lights. I feel like they would take such better pictures…. #bloggerproblems. Since we have to put the lights on ourselves (and by we, I mean I put the lights on the tree) maybe I'll treat myself to some white strands at the end of the year when they are hopefully on sale.
5. Send Christmas cards?
You betcha. Which reminds me… I need to get that done…
6. Favorite Christmas present received?
I guess it's a toss up between my sewing machine a few years ago, or my Sega Genius that I got in elementary school
7. Favorite gift given?
This is hard! I actually don't know if I have a favorite gift that I have given.
8. Stockings or no stockings?
Stockings for sure.
9. Christmas PJs?
No. But I would really love to start making family pairs.
10. Favorite Christmas carol?
Christmas in Killarney by Bing Crosby or Carol of the Bells
11. Favorite holiday tradition?
Hmmm… I love that we put up the tree the Sunday after Thanksgiving.
12. Early shopper or last minute?
A mix of both for sure.
13. Favorite Christmas Movie or Show?
Elf, It's a Wonderful Life, or Die Hard. I also love the Polar Express, but that's because I love the book. Although I can never get through the book without choking up.
14. Favorite Holiday Beverage?
Cold Duck, or Spiced Egg Nog
15. Cookies and milk for Santa?
Of course!