**This shop has been compensated by Collective Bias, Inc. and its advertiser. All opinions are mine alone. #BirthdaysMadeBrighter #CollectiveBias**
Think back to summer birthday parties of your youth. What comes to mind? For me (besides the fact that I had to bring a PB&J since I didn't like pizza)a few memories are conjured.  Joy comes to mind. I remember spending quality time with friends.  Laughing and having fun.  I remember going to pool parties and seeing who could make the biggest splash. Playing Marco Polo until it was time for cake and presents. Just, an overall cheerful feeling.
Oh and of course the presents
Bright colorful presents with lots of bows and ribbons.  And funny cards.
Do you remember looking at your gifts, wondering what was under all that fun paper? Or do you remember how exciting it was to get a card in the mail?  My four year old LOVES getting cards, and I'm sure many others are the same.
Now that I am an adult, I love being able to wrap presents so that kids can feel the same joy that I remember feeling. I also find love finding the perfect card to celebrate that summer birthday. And, I'm here to show you how Meijer and American Greetings can help.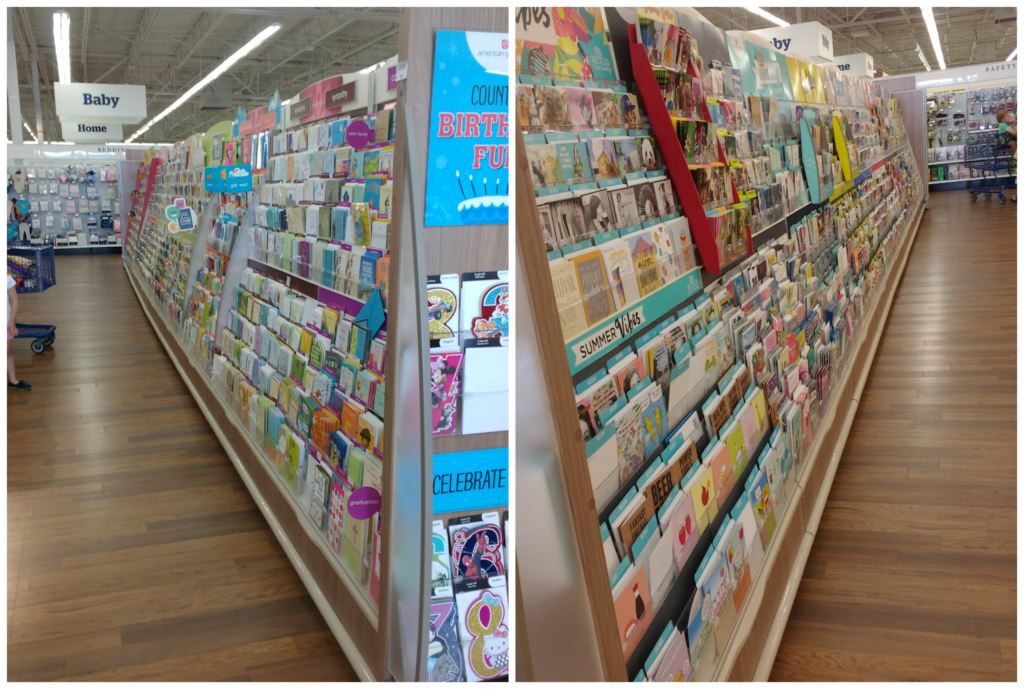 While I was shopping at Meijer the other day, I decided to stop in the card and party aisle to pick up some birthday cards.  I always like to have a few cards on hand for when you, ah, forget to pick one up.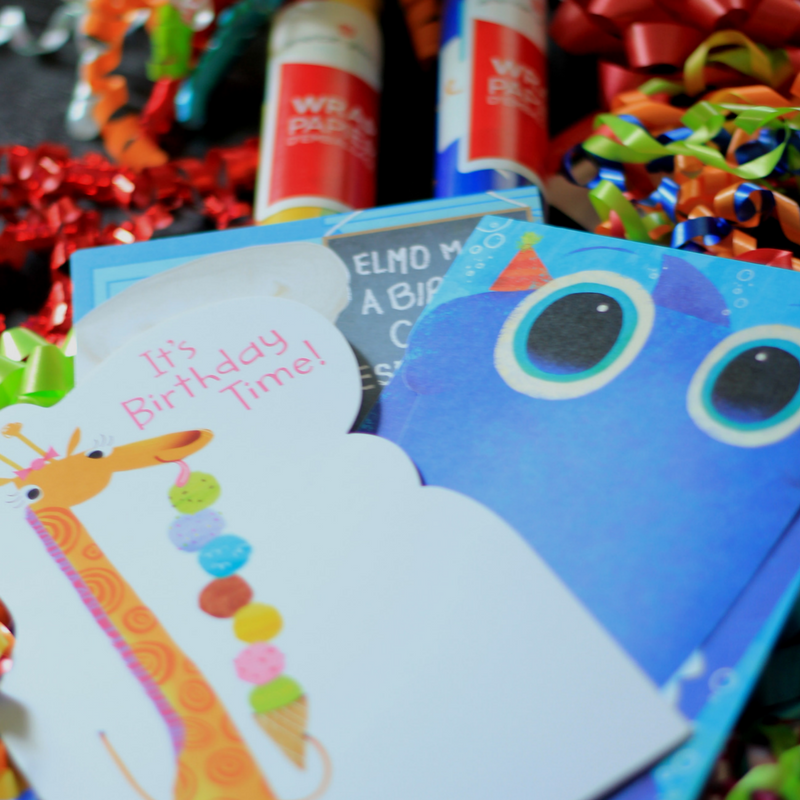 You can find the perfect card for any child's birthday here.  General, or ones with  licensed characters, they have it all.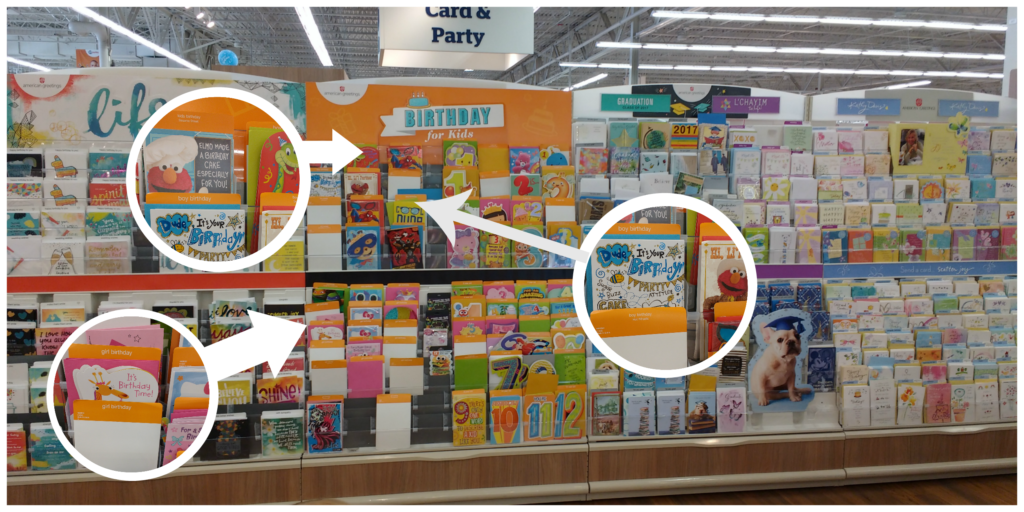 While I was there I also remembered that we were running out of fun birthday wrapping paper so I picked up some American Greetings Roll Wrap, along with some ribbon and bows.  They really have tons of choices! Plus if you need gift bags, or party decor they have you covered.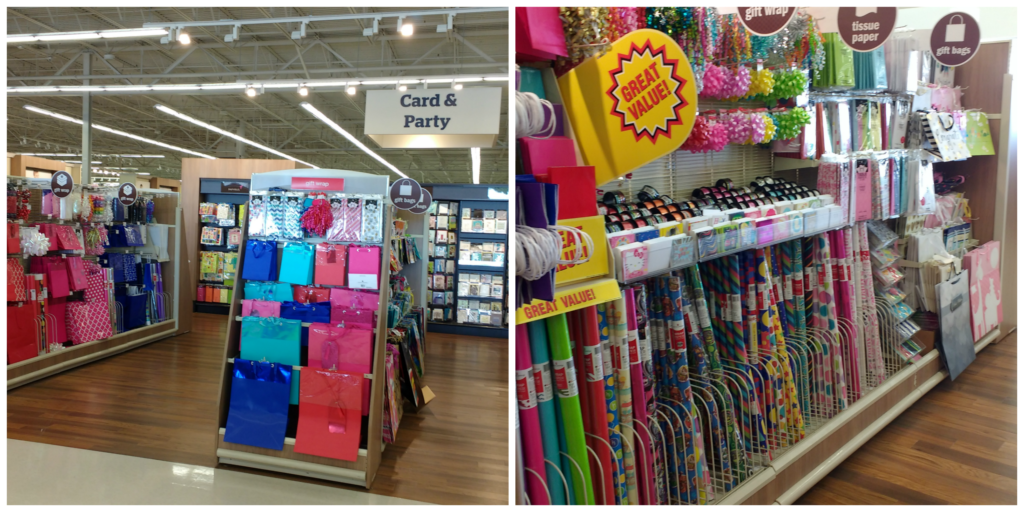 Today I wanted to show you how I quickly and easily get a present ready for a summer birthday party.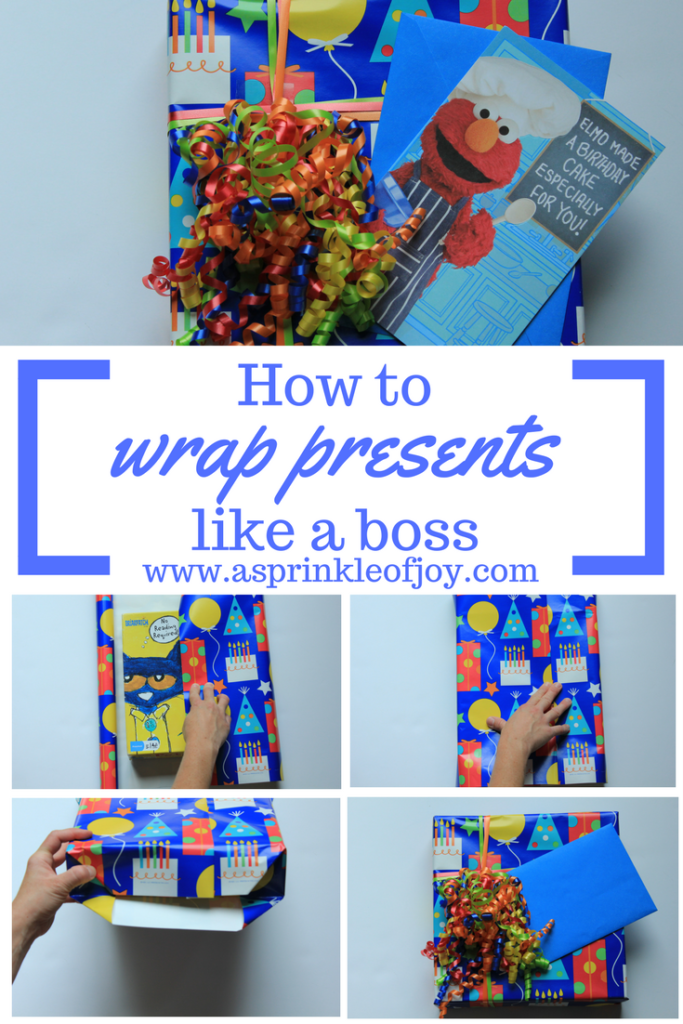 Step One:
Get whatever package you are wrapping and set it on your wrapping paper (mine is from American Greetings). Take the open edge and bring it to the middle.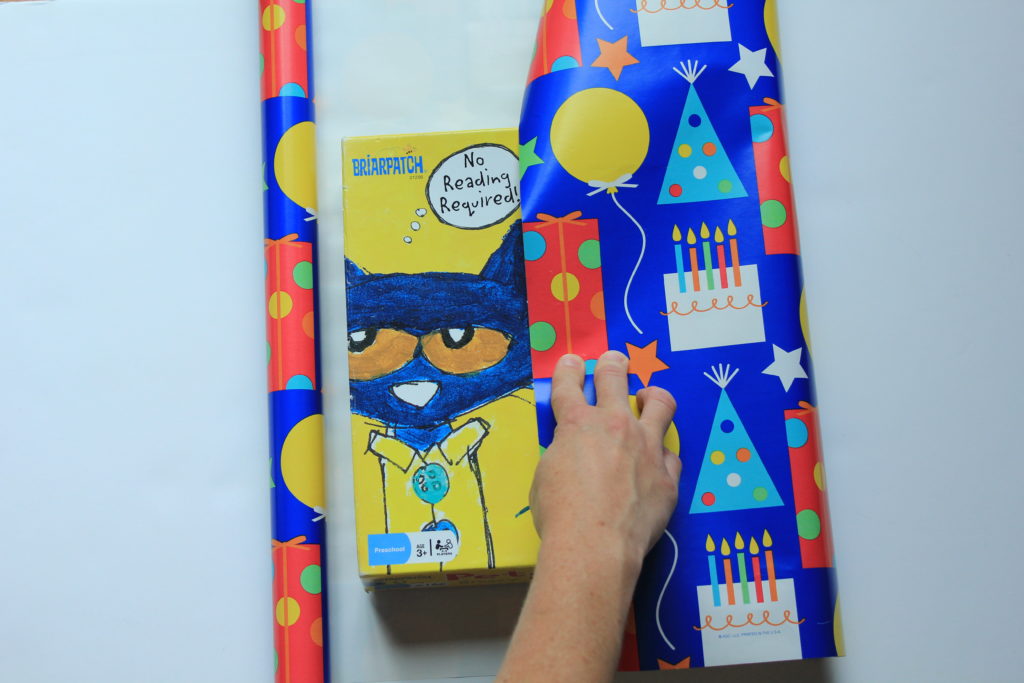 Step Two:
Take the roll and bring it over so that it slightly overlaps that edge. See where my thumb is? This is where you will cut.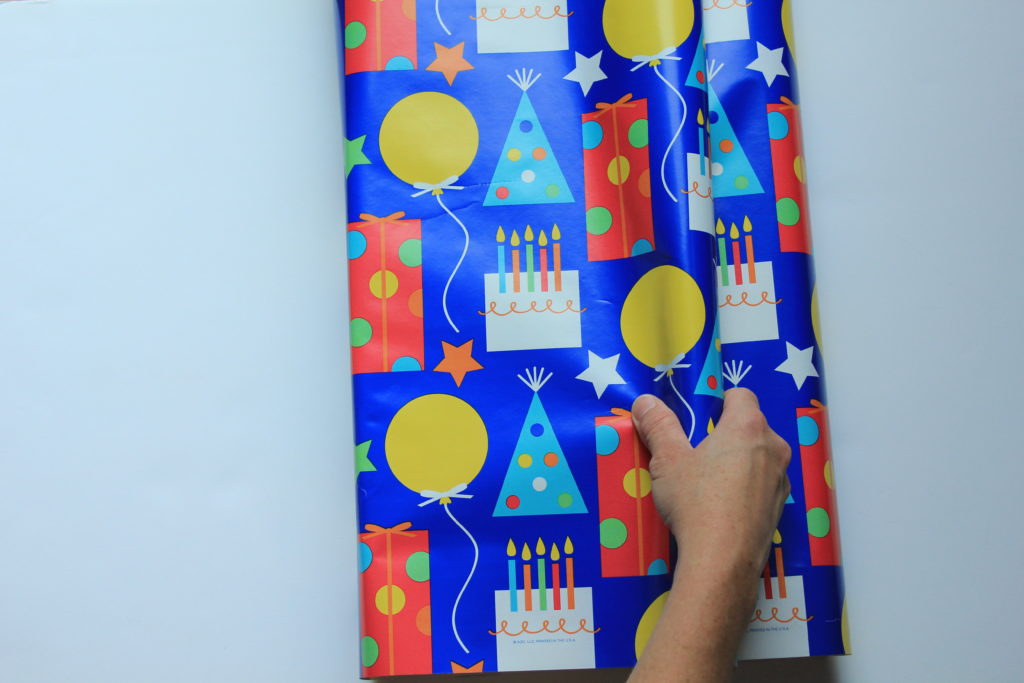 You then want to cut the other edge so that there is enough paper to cover the box.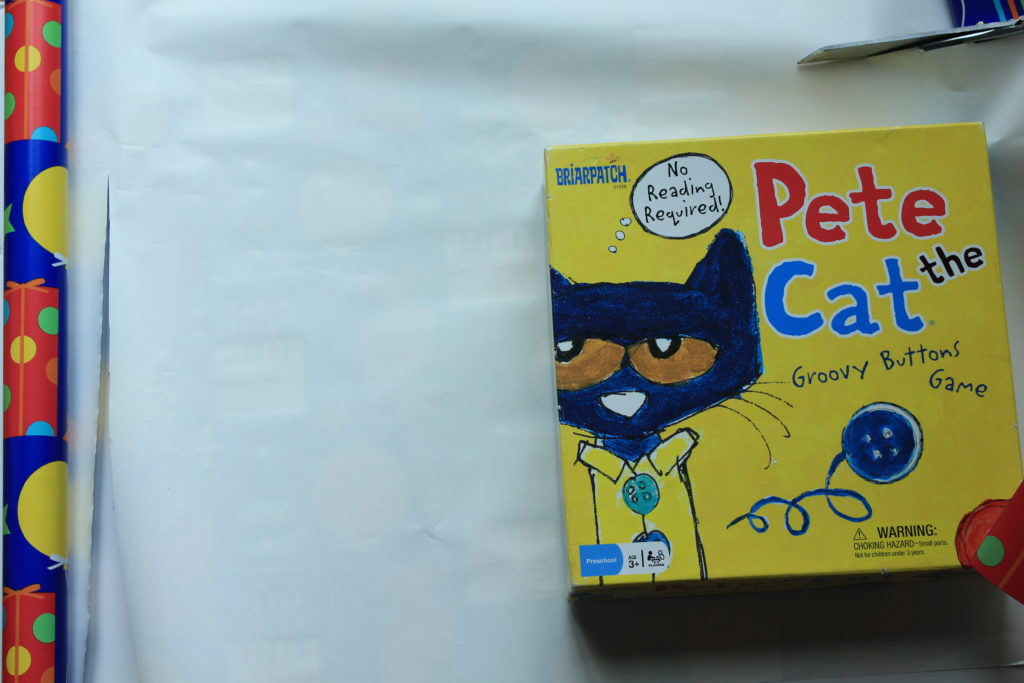 Step Three:
After cutting, flip the present so that the bottom is on top. Fold one edge over and tape it down.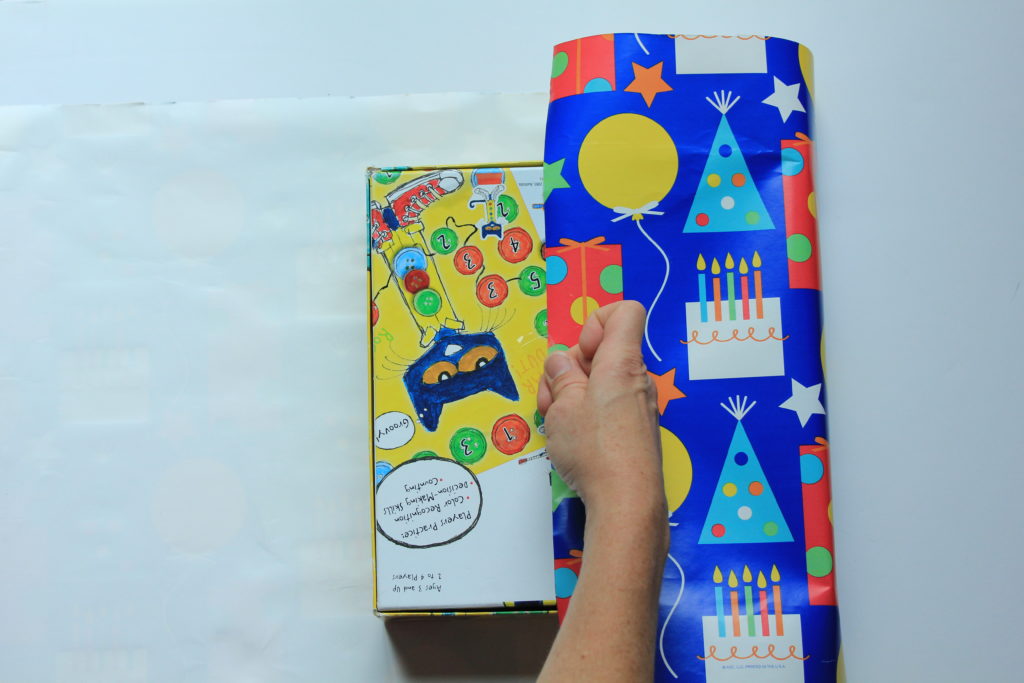 Step Four:
Fold the other edge of the paper over like shown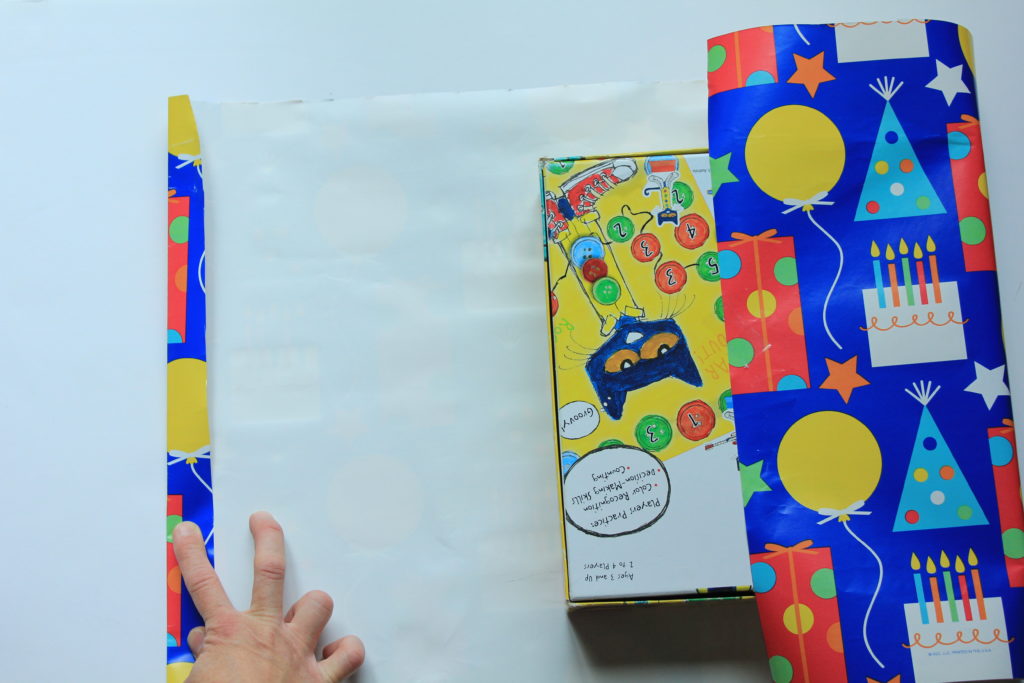 Then bring that over the edge and tape it down.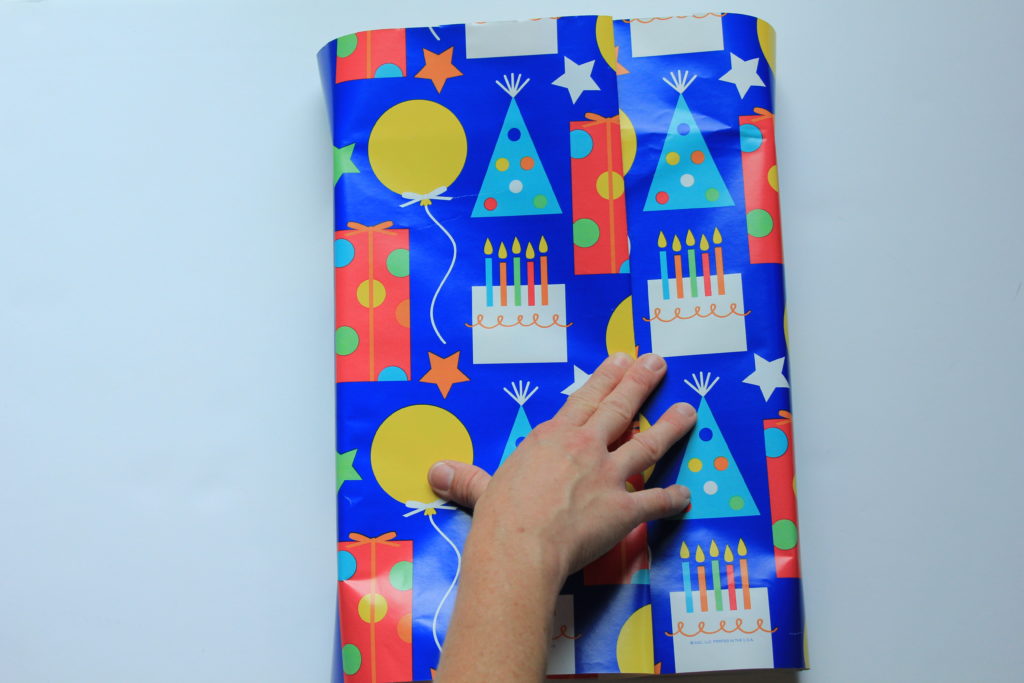 Step Five:
Now comes time for the edges.  You are going to push the edges in so that it looks like this. Be sure to crease the folds well.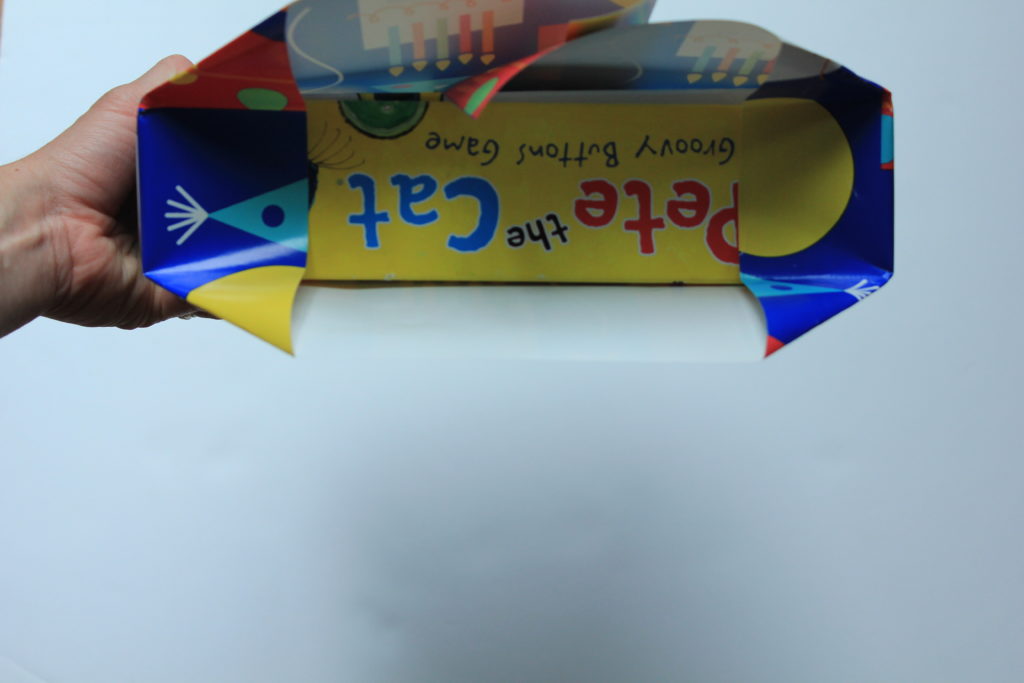 Step Six:
Fold the top edge down like so.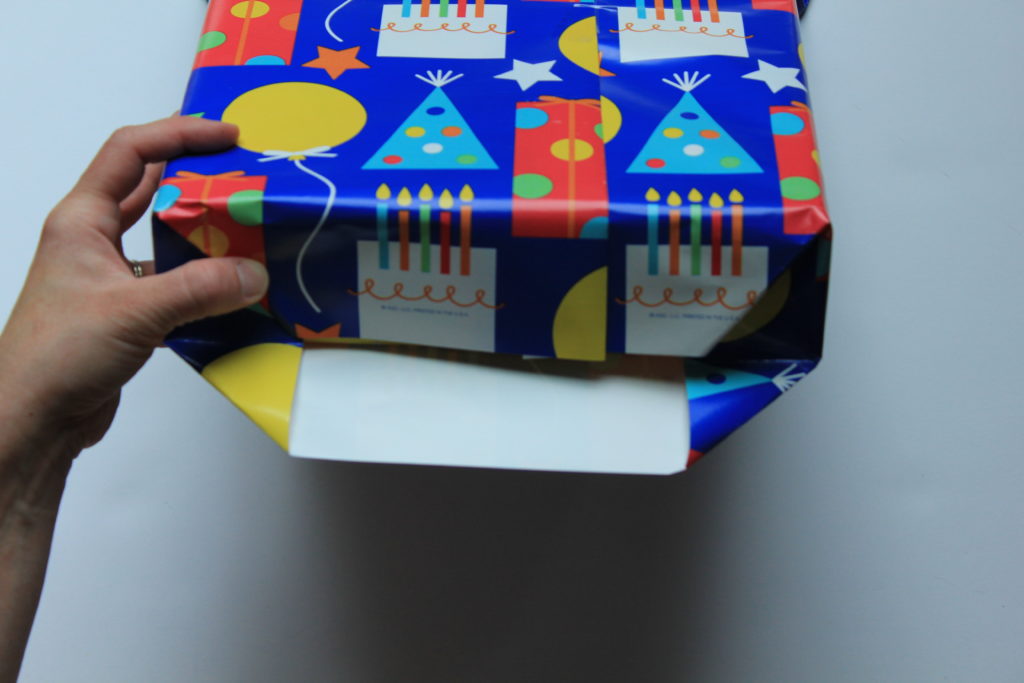 Step Seven:
Fold the raw edge of the second flap over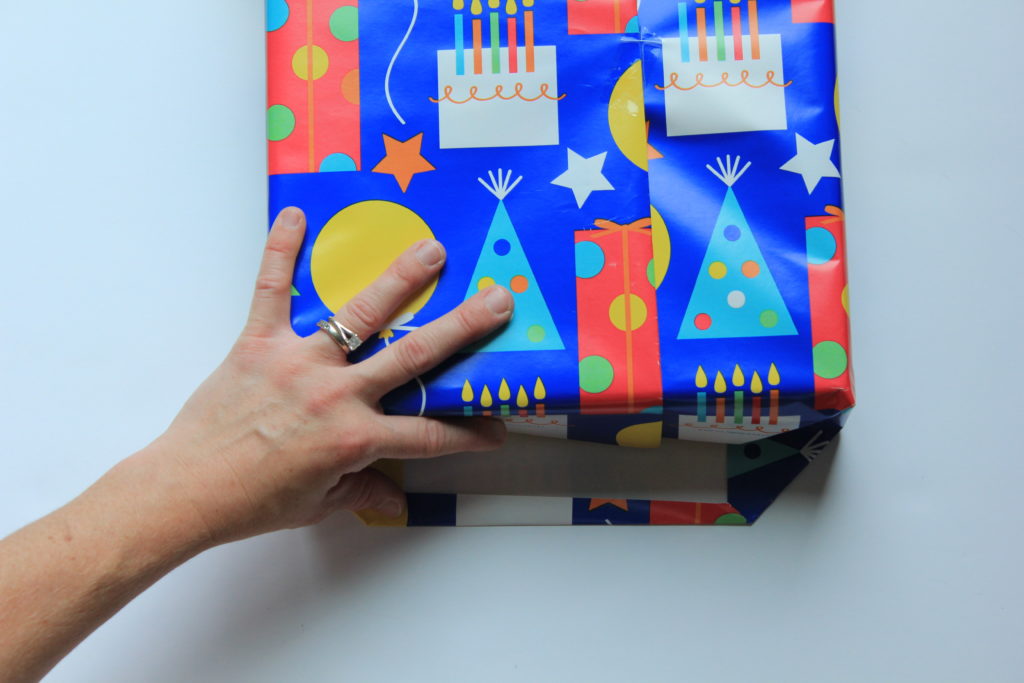 Then fold that up and tape it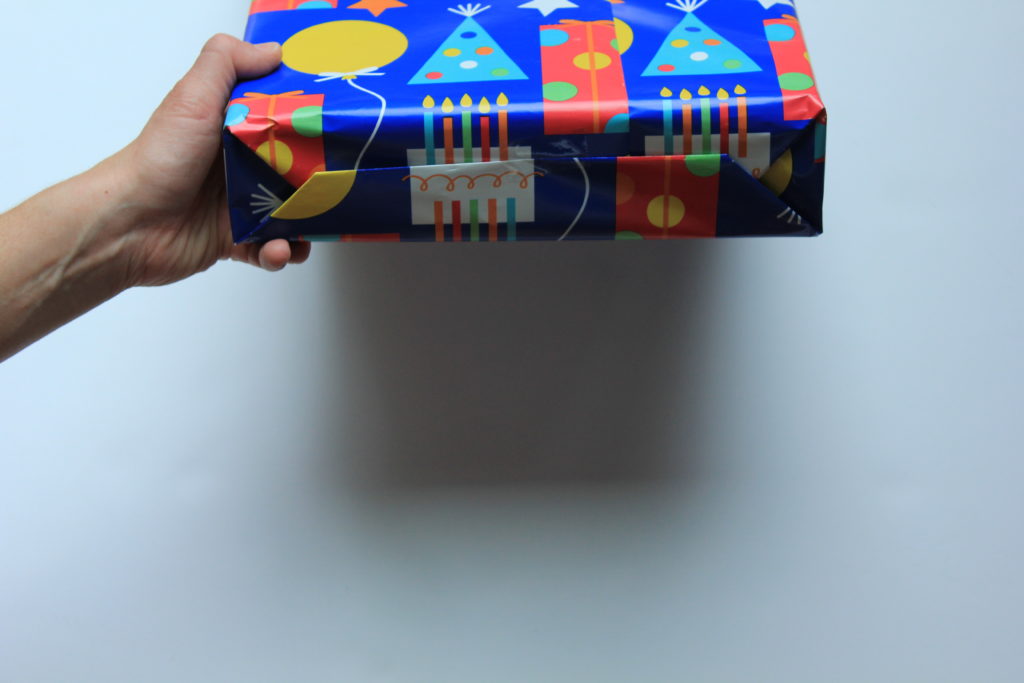 Do the same thing to the other edge.
Step Eight:
Now some may stop there. But don't! Add some bows and ribbons! 🙂 I always like to off-set the bow, like shown.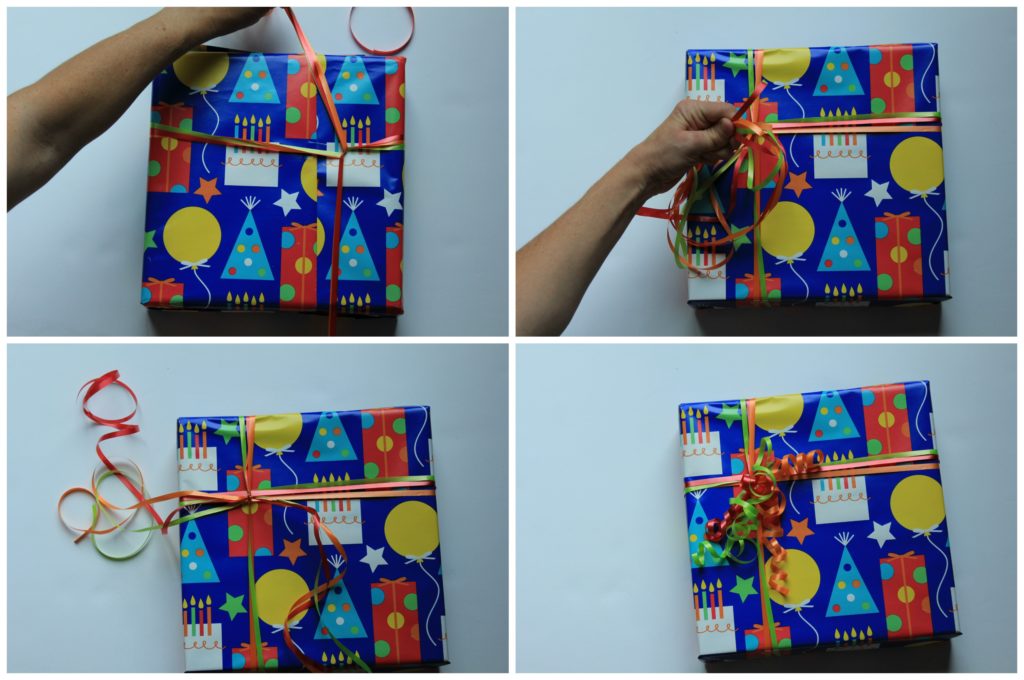 Step Nine:
Now, while the present may look done, why not add some extra flair. I love that American Greetings has a variety of bows and ribbons to choose from.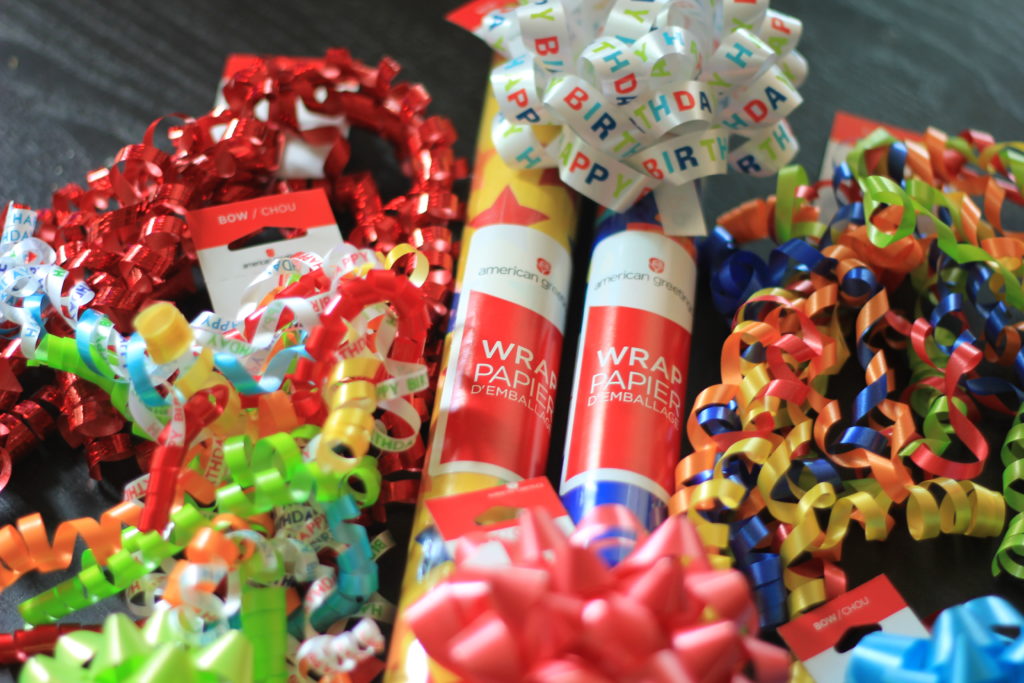 Since I'm a sucker for curly ribbon I decided to take some of the pre-curled ribbon to add.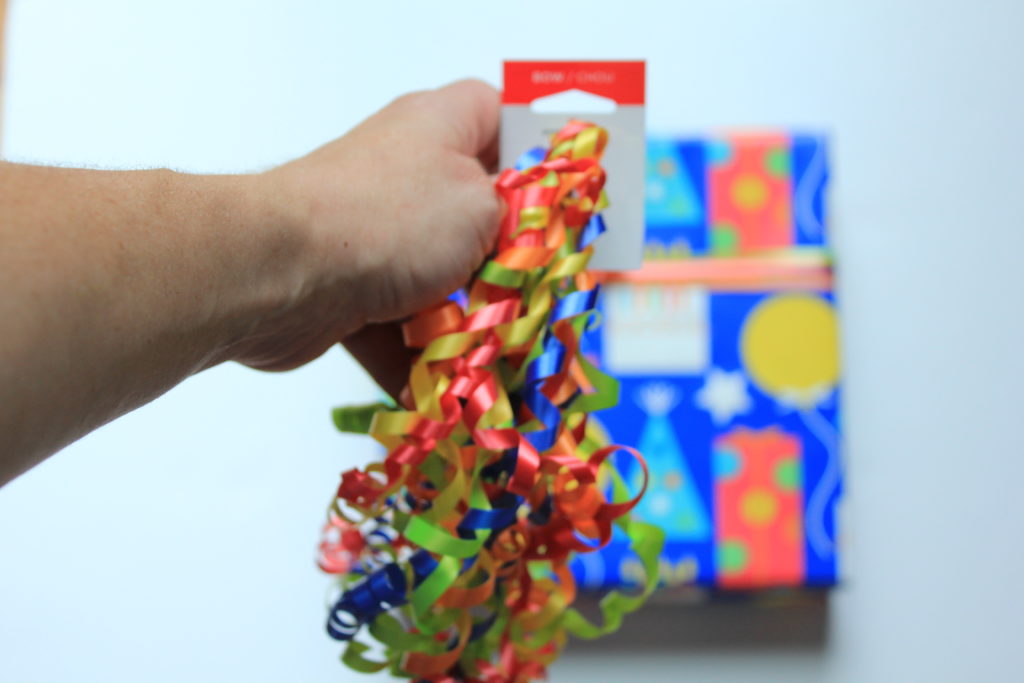 You just have to peel the backing off and stick where you want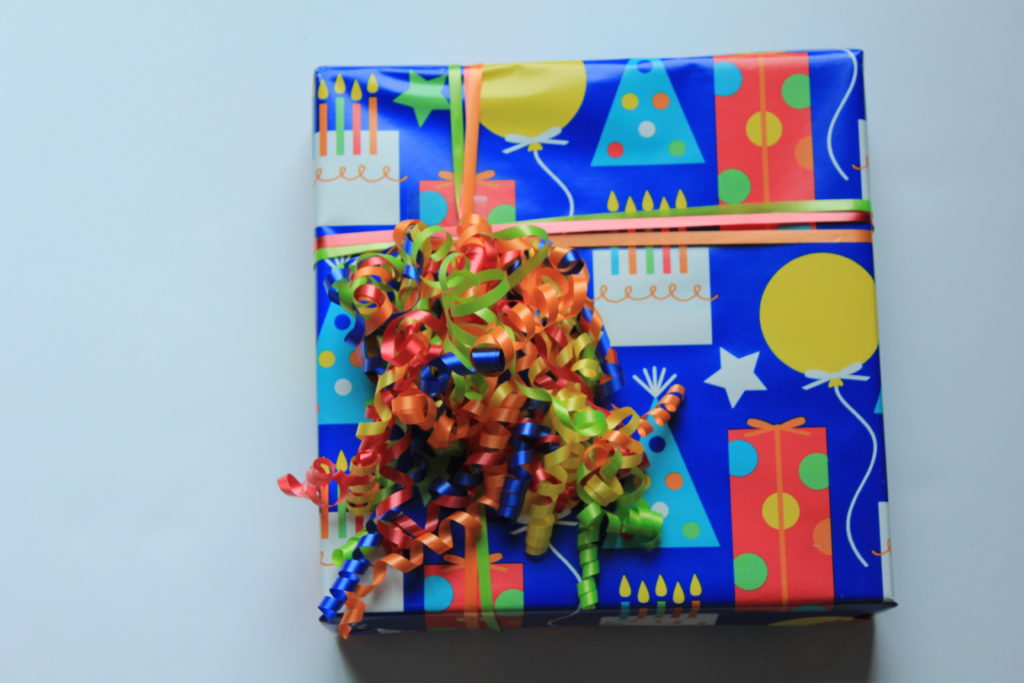 Step Ten:
Last up is picking out a card.  I love all the options I had at Meijer from American Greetings.  Like I said earlier, they have a variety to choose from.  So whether you are look for a general card, or one with a character on it, they have you covered.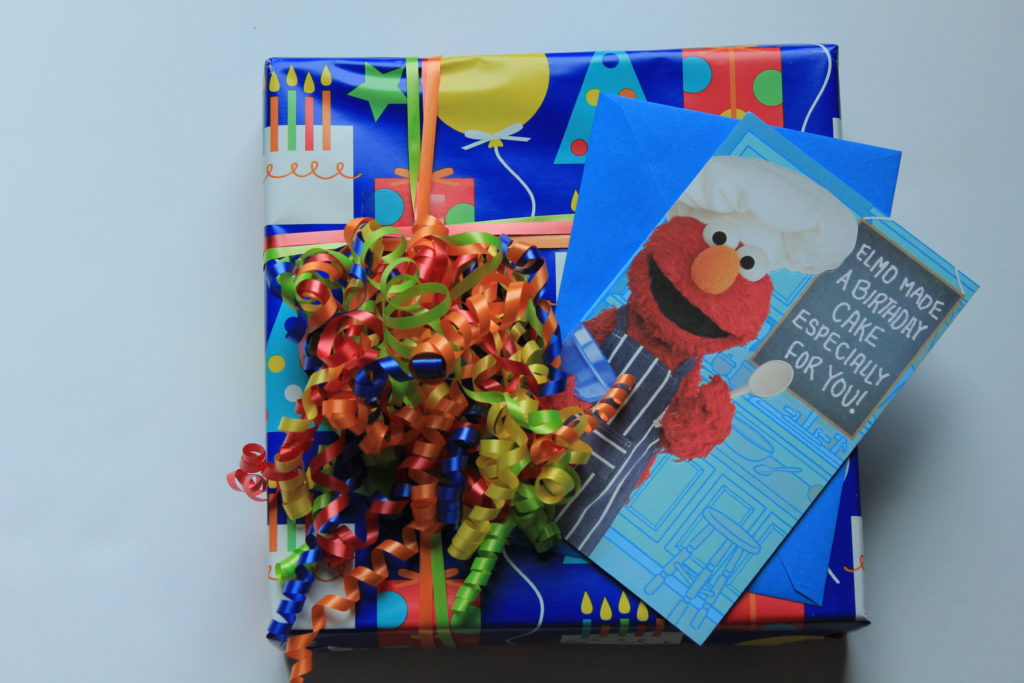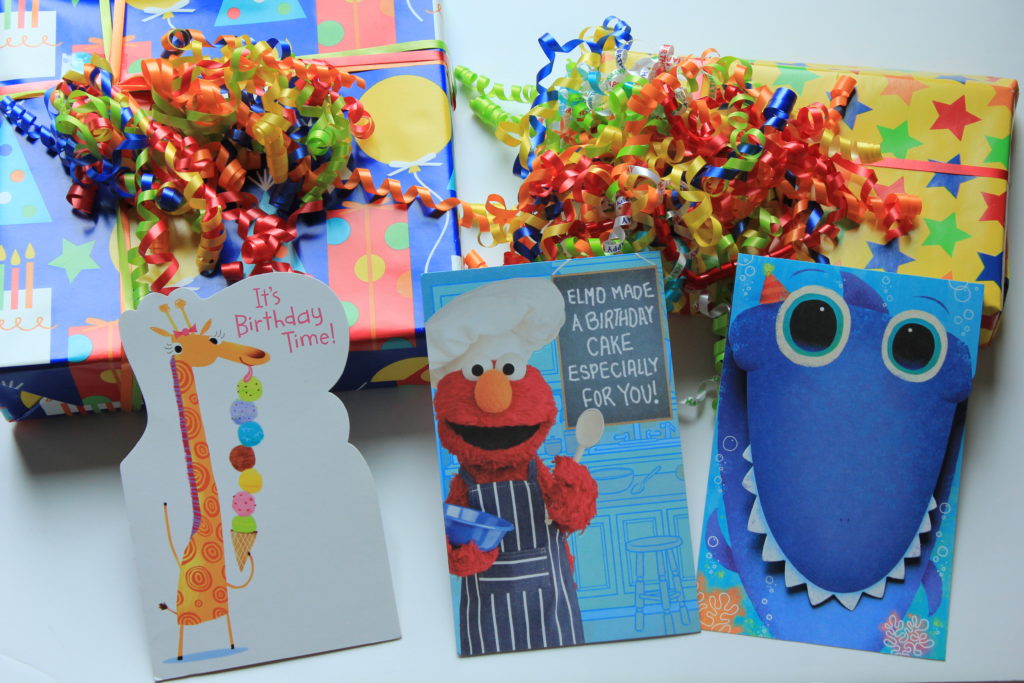 So, what about you? How do you like to bring joy to a birthday party? How would you use American Greetings to add some joy to a celebration?