Over the weekend we celebrated Annabelle's birthday with a Bubble Guppies birthday party.
Annabelle loves the Bubble Guppies (and in all honesty, besides the occasional Shimmer and Shine, Bubble Guppies the only TV show she watches regularly.  And by regularly I mean we have about 8 episodes saved on our DVR that we watch on repeat.  Although, I actually don't mind the show.  The songs are pretty catchy, my favorite is "Arctic Life".), so it was a no brainier to do this theme.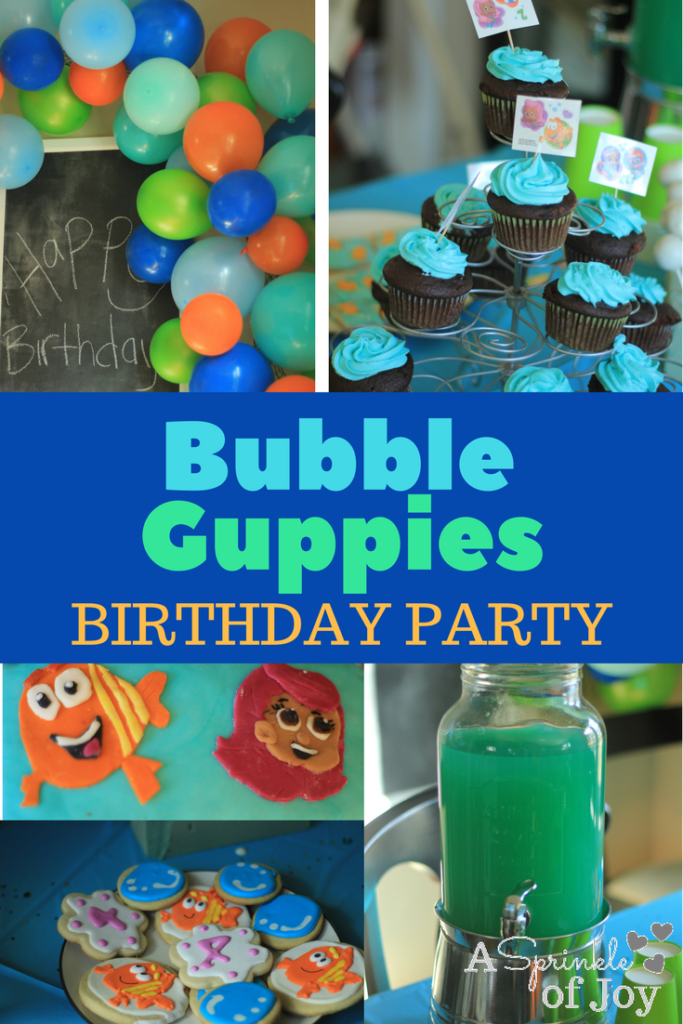 And, if I'm being honest, I totally didn't start any major party prep (besides handing out the invites, which I bought), until the week before.  So how did it all come together?
In my opinion, the highlight of the party (well besides the birthday girl) was the balloon arch.  I made one for Autumn's birthday, and Annabelle requested one for hers as well.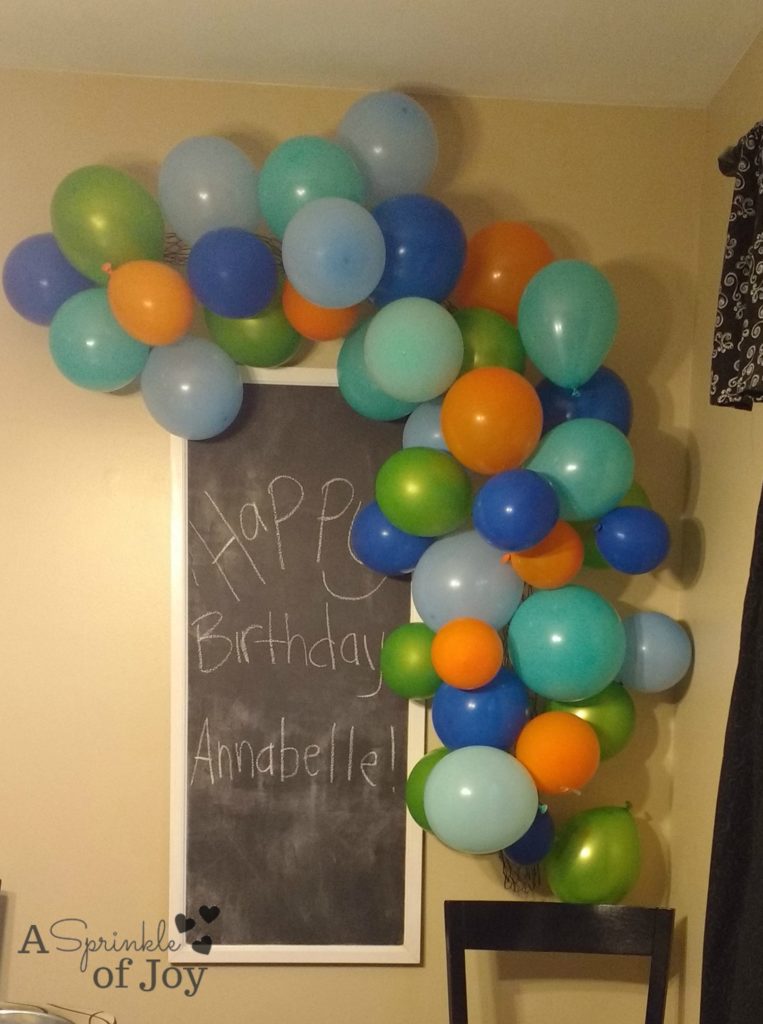 I tried to go with the Bubble Guppies color scheme, and I think it worked out.  I was also totally going to do a better chalkboard, but ran out of time.
Instead of cake I like doing cupcakes at birthday parties.  That way I don't have to worry about cutting a cake, and they are pretty easy to decorate.  Plus, since Annabelle still has rather small parties, there is no need for a huge cake.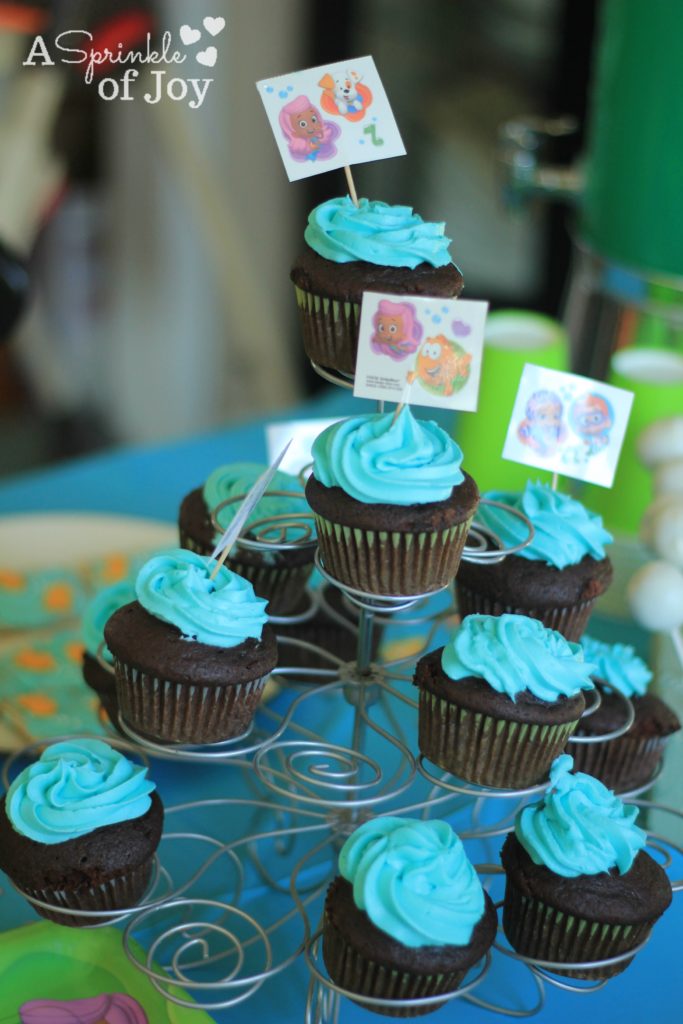 I had wanted to order some rings to put on top of the cupcakes, but shipping was ridiculous. Instead I picked up some temporary tattoos, taped them to a toothpick, and called it a day (not every cupcake had tattoos, since it was a small party).
I couldn't have a party without decorating some sugar cookies!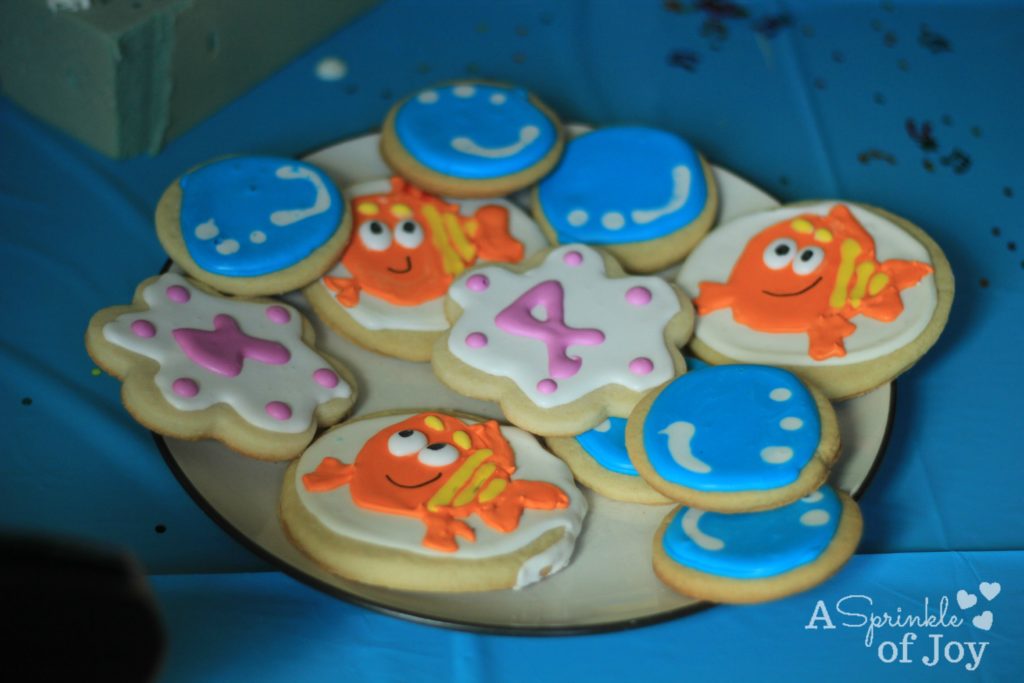 Truth be told, I had a bunch more that I started to decorate, but I failed miserably, so these where what I put out. Stay tuned later, and I'll be sharing my not so great cookie in a later post.
I also think a party isn't a party without some cakepops. 😉  I wasn't going to make any, but then when I made the cupcakes I had extra batter, so decided, what the heck, why not.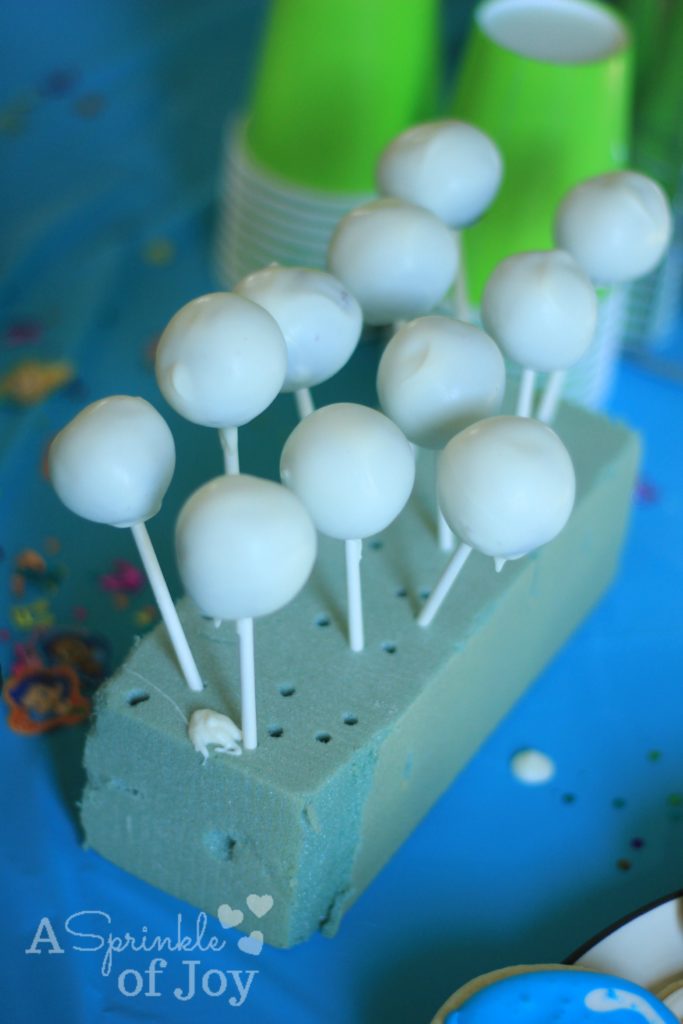 As you can see, I kinda dropped the ball on displaying them.  If I had more time, I probably would have done the same thing I did for Autumn, but I didn't.
I also made some fun little graham cracker snacks.  They were super simple and look so cute!  Great for a Bubble Guppies themed party.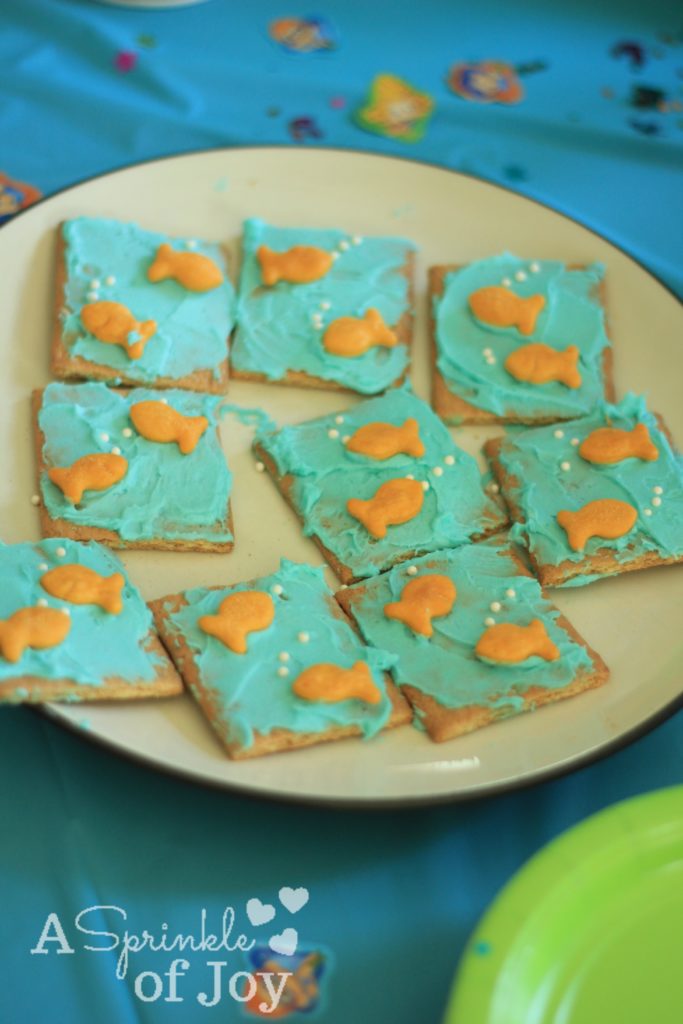 I wanted to make a yummy drink as well, so I went with a (non-alcoholic) punch.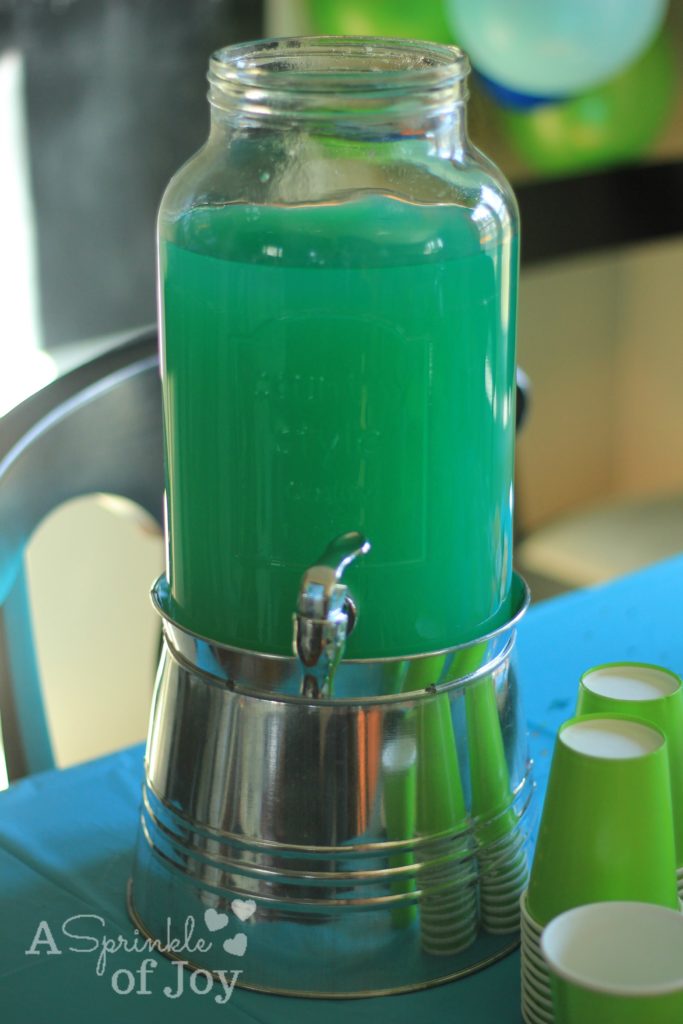 It was super easy to make.  I used blue Hawaiian Punch, pineapple juice and a little bit of sparkling lemon water.  It turned out super yummy!
Finally, we celebrated Annabelle's birthday with my parents on a separate day, and I made her this cake out of fondant.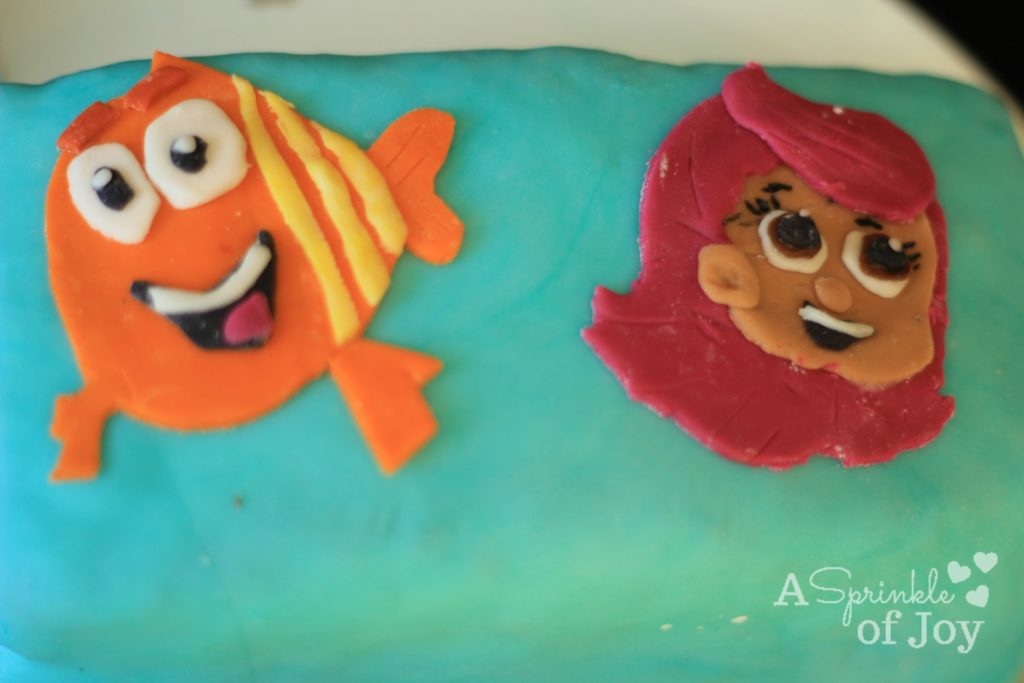 It was only my second time working with fondant so I was happy with how it turned out.  There is def. a learning curve with fondant, so I'm hoping I'll be a little bit better next time.
This is the best picture I got of her in her dress.  I plan on taking some better photos, and I'll be sharing some on the blog.  So stay tuned for that!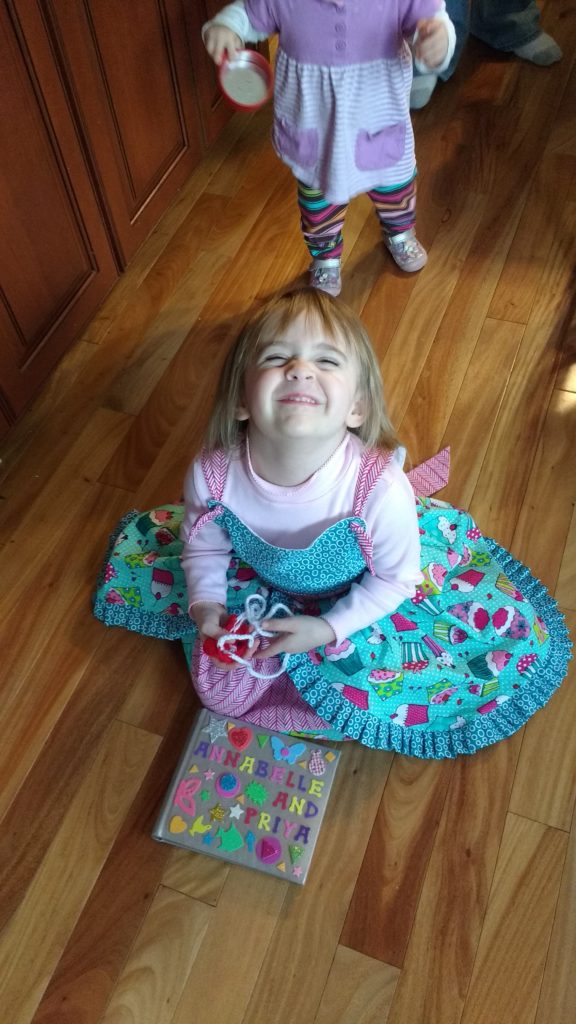 I just love that smile!  And what you see in front of her is this awesome photo album her friend gave her!  She (well lets be honest, her mom) filled with pictures of the girls, and there is tons of space for the rest of the memories they make. Not going to lie, I teared up a little while looking at it.
I love this girl!