Well, another weekend has come and gone. We had a pretty busy weekend full of fun and family.
First off though, I am happy to say Annabelle's sleep has been improving **knock on wood**. I think it was a combination between letting her cry for a bit before checking on her/making it through the four month sleep regression. At night, after I put her down she tends to go to sleep pretty quickly (we've been working for having her asleep by 7) only crying for a few minutes, then sleeping for about 6 hours before waking to eat. It has been marvelous to have some alone time with Matt! I hope that this lasts for a bit… I know teething will be upon us soon which will lead to more sleep problems.
Naps have also gotten better, once again **knock on wood**. On Friday I decided I'd had enough of rocking Annabelle till she was drowsy then carefully trying to put her in the crib. She almost always woke up, and she spent most of her nap in my arms. I was tired of feeling like a prisoner trapped in her room. I wanted to spend her naps doing things for me (working out, sleeping, catching up on AGT, working on this blog). So it was her last nap of the day, I knew she was tired, but she refused to sleep. I rocked her, then placed her in her crib letting her know I loved her and would see her after her nap. She of course started to cry, so a few minutes later I went back into the room, replaced the binky told her I loved her and left. It took about 15 minutes, but she finally fell asleep! The next day I did the same thing, rocked with her, then put her in her crib. There were still some tears, but she was able to fall asleep! It's a great feeling watching her fall asleep on her own on the monitor. 🙂 I am hoping that she can continue to fall asleep like this. Today has been a little rough so far, but I am hoping it will get better. I also hope this will help her extend her naps past the 45 minute mark!
On Saturday we had Matt's mom join us for a birthday dinner (her birthday was on Sunday). She came over early to watch Annabelle so I could take a nap. It was great! We Matt smoked ribs on the smoker with a variety of rubs. Let me tell you, those were some of the best ribs he has made! The meat had just the right amount of flavor and was falling off the bone. We recently bought a new smoker and have been using it as much as we can. We have smoked beer can chicken, pork loins and beef briskets as well.
On Sunday I went to a bridal shower for my sister-in-law Sarah who is getting married in September. It was nice to meet some of the grooms family and to celebrate with her.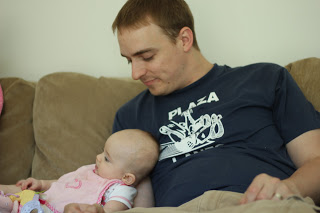 Just chillin' with my Dad.