Now that Annabelle is getting older I am trying very hard to include some more "educational" activities in our day to day life.  These activities are usually done during Autumn's nap,  so Annabelle really looks forward to the one-on-one time that we get to spend doing them.
Since Valentine's Day is fast approaching I came up with some fun ideas using conversation hearts.  There are so many activities you can do with them, and I'd love to share what we have done. I'll even talk a little bit about how you can differentiate some of the activities if you want to use this in a classroom, because, #formerteacher here. Plus, I'm including a bunch of free printables!  🙂
So what can you do with conversation hearts?
Patterns
Use them to create patterns!  I love this because its so easy to differentiate.  Do you have a little one?  Stick to a simple AB pattern.  Try a complicated pattern (ABBAC for example) for those who are more advanced.
You can let them come up with their own pattern and glue it down on a piece of paper like this: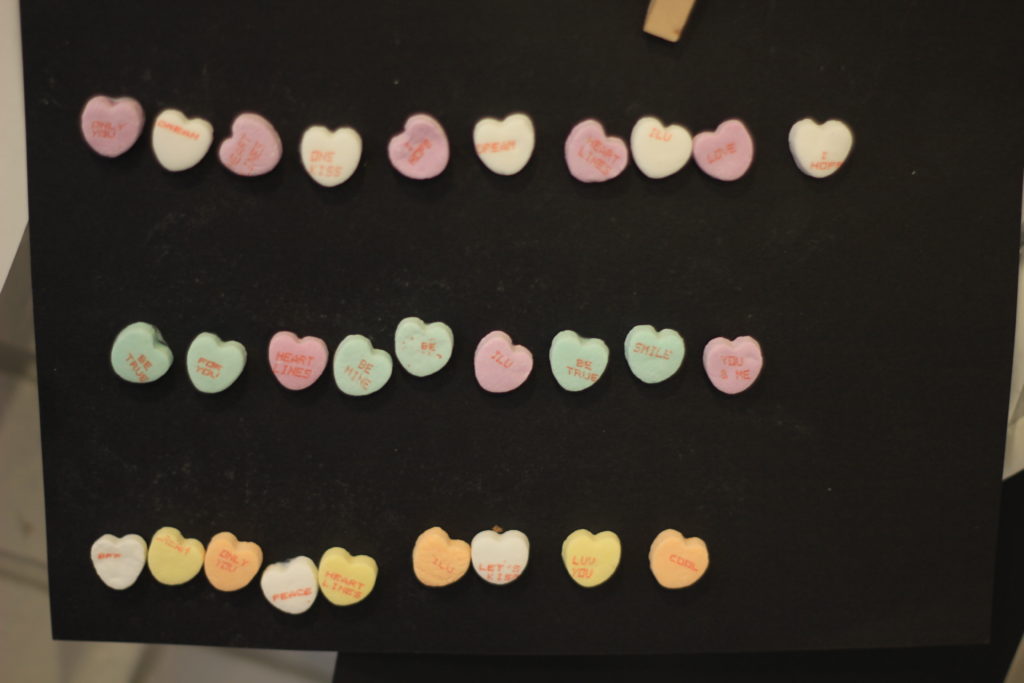 Or, if you'd like, I created some pattern strips.  I left them blank but feel free to color in the hearts, then have children complete the pattern.  These would be a great center activity!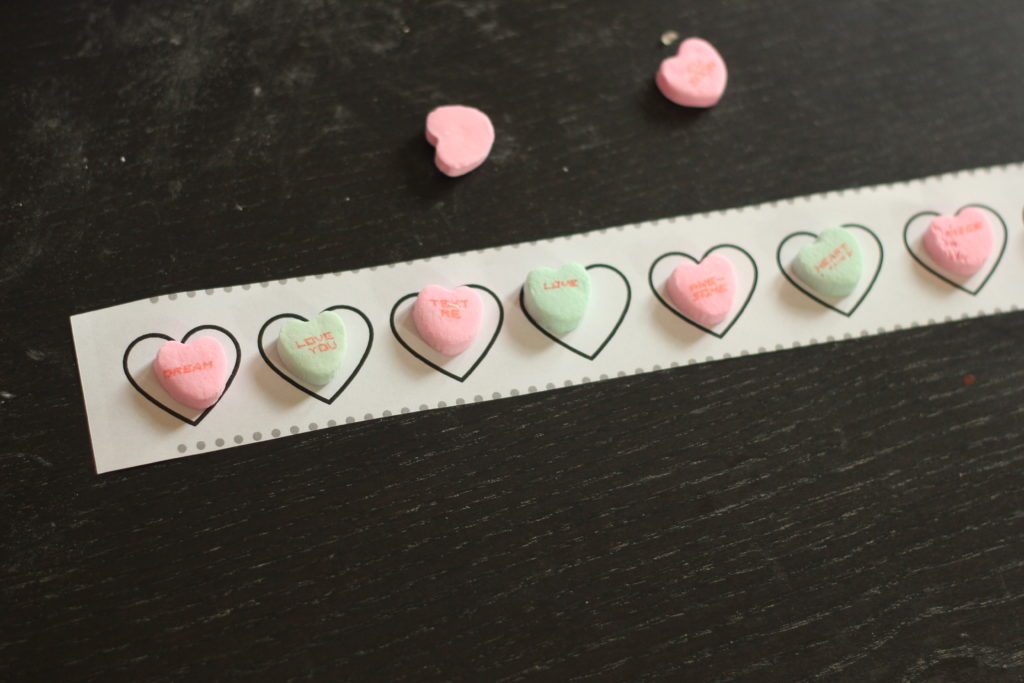 I also included a whole sheet for those of you with ambitious kids.  Here is a PDF file for the pattern strips.  Here is the file for the full page of hearts.
Letter Matching
Next up is letter matching!  Simply write the letters on conversation hearts and use them to match the letters on the sheet.  You could match upper case to upper case and upper case to lower case.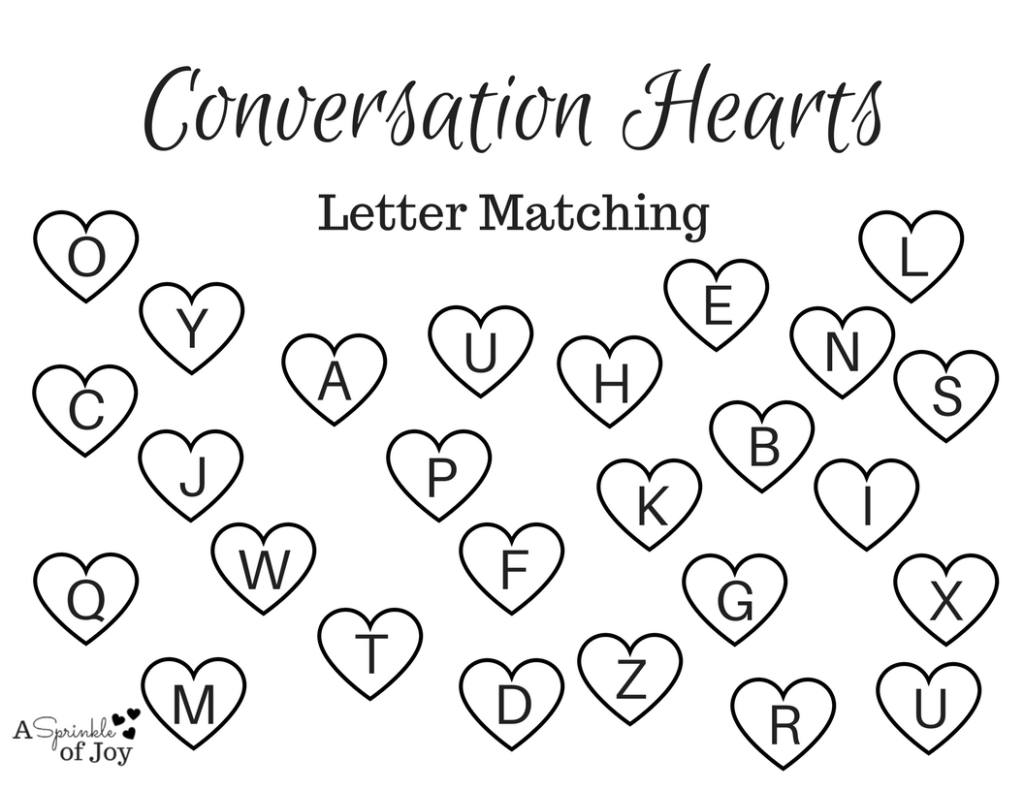 Here is the PDF for your letter matching.  The packet  comes with upper case, lower case, and also comes with a page of blank hearts in case you wanted to write your own letters in.
Graphing
Candy hearts are great for graphing!  Plus, there are so many different ways to do this!  You could simply give your child a handful of hearts and have them put them in the correct space (children don't like to freeze for pictures).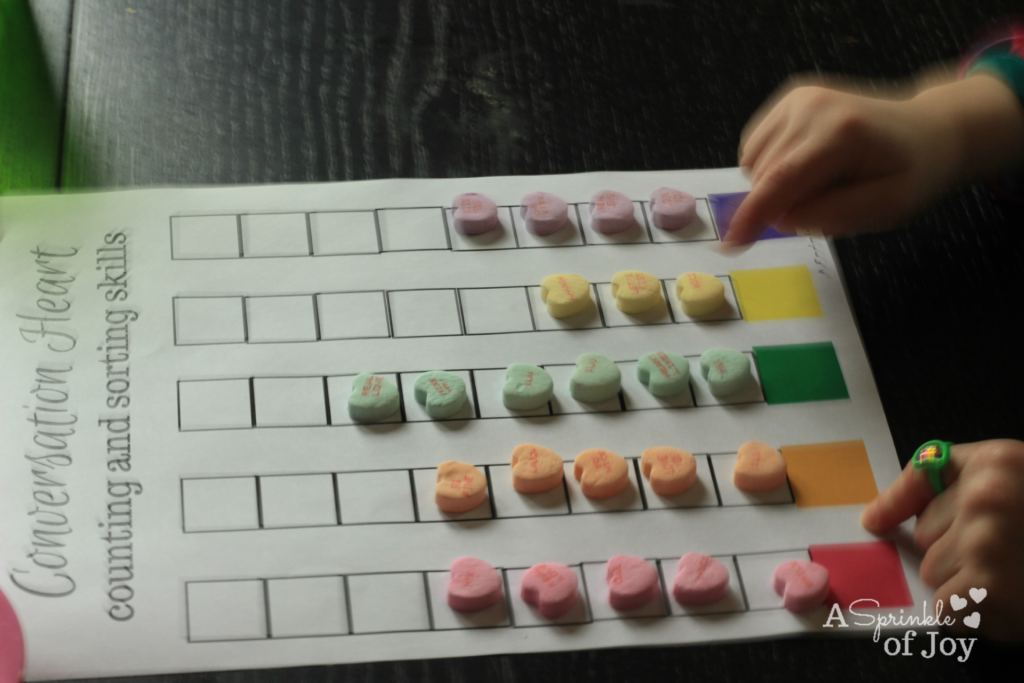 Or, have them roll a die and count that many hearts.  Or use a number card and have them count that many.
Also be sure to talk about more, less, greatest and so on!  Never to early to work on those math terms. 🙂  Lots of options! I've included both a color copy and black and white in the printable packet.
Here is your free graph/chart!
Build your Name
Here's another easy activity to do.  Write the letters of your child's name on conversation hearts, then have them put them in the correct order.  After, why not have them draw a self portrait!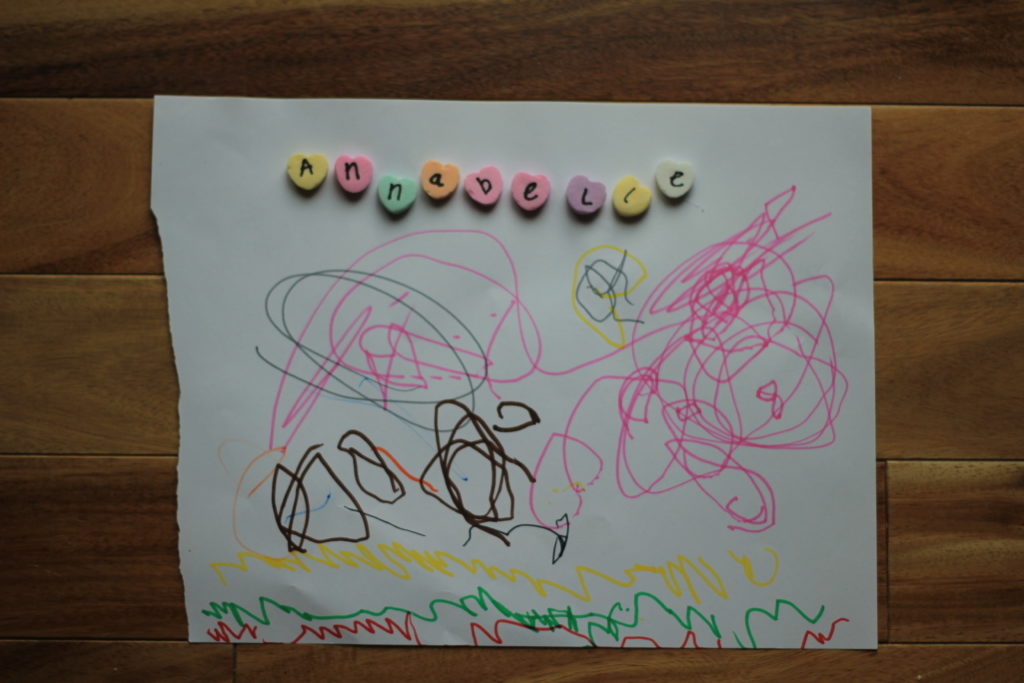 Annabelle's self portrait of course included cats…
Building Sight Words
Ok, I clearly have not done this with Annabelle, but if you are a teacher you could totally have kids use conversation hearts to build sight words.  Just write the letters on the hearts and have them spell the words.  This is another activity that is easy to differentiate, as you could have the more advanced kids do harder words.
Base 10 Mat Counting
Use the printable to have your child put the correct number in the grid.  Easy peasy lemon squeezy.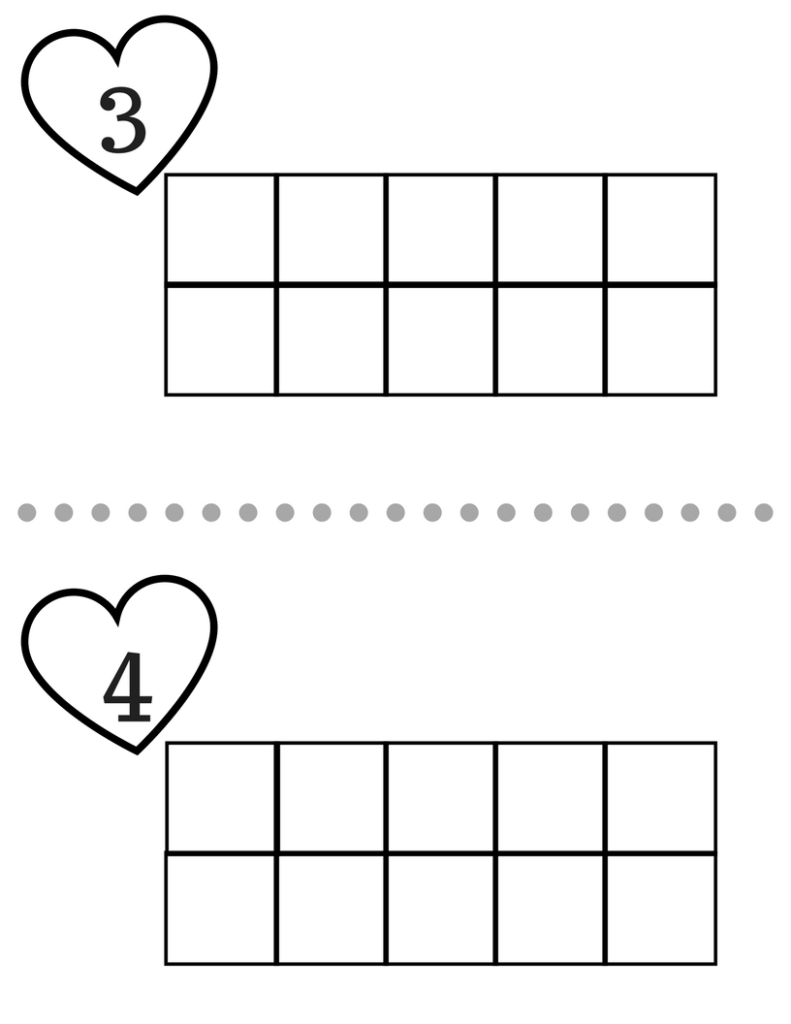 Here is your printable for the ten mat counting.
Roll and Add
This activity doesn't really need a printable, but I included one for you just in case.  For this activity have kids roll a die (or pick a number card) then do it again.  Add the two numbers together and write the total.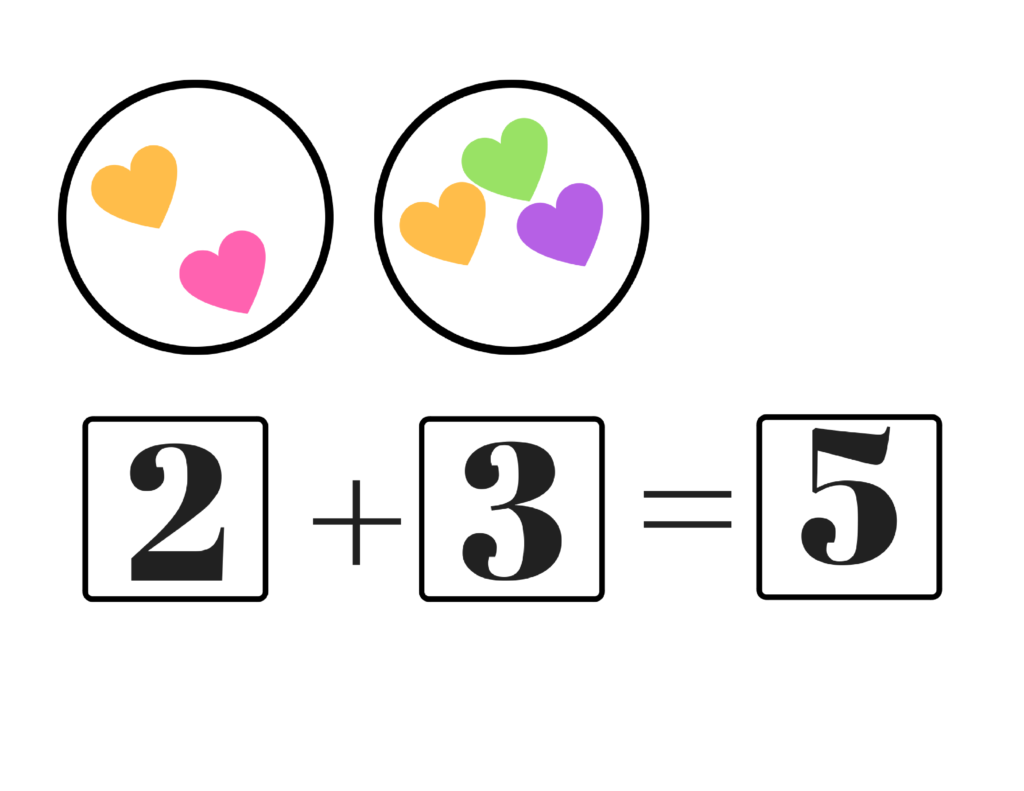 Annabelle isn't writing letters yet, but we are working on counting skills.  This is also a great activity to help kids count on (meaning if they are adding 5 + 3, have them count up 3 from 5.  You would be surprised how many kids have to count 1-2-3-4-5-  6-7-8, instead of counting 5- 6-7-8.  Also, with more advanced kids, have them add three or four numbers.
Here is a blank copy of the roll and add sheet.
Counting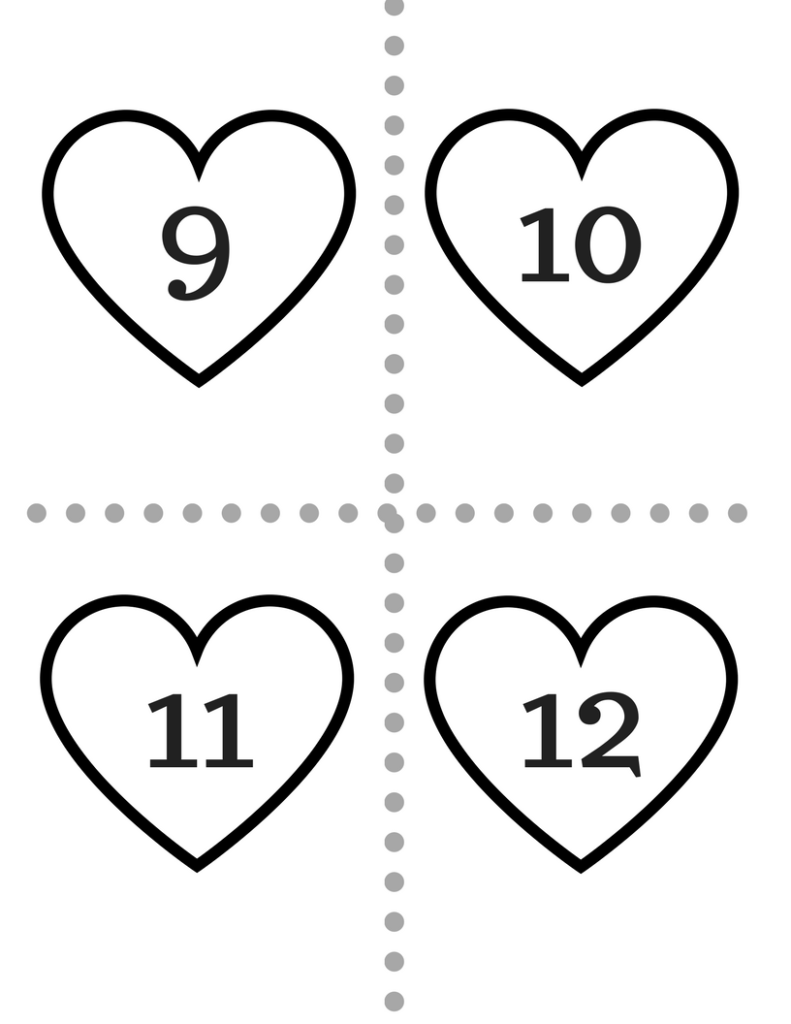 You can also work on simply counting and number recognition.  Annabelle is getting good at counting, but we are still working on number recognition.  Having her pick a card and count that many conversation hearts will help. The printable includes numbers 1-20, plus a blank page so you can fill in whatever numbers you want.
Here are your heart counting cards.
Move with Tweezers 
Did you know that fine motor skills are crucial when it comes to writing?  Strengthen those hand muscles by having kids use tweezers to move candy hearts from one place to the next.  Make it a game by setting the timer to see how many they can move.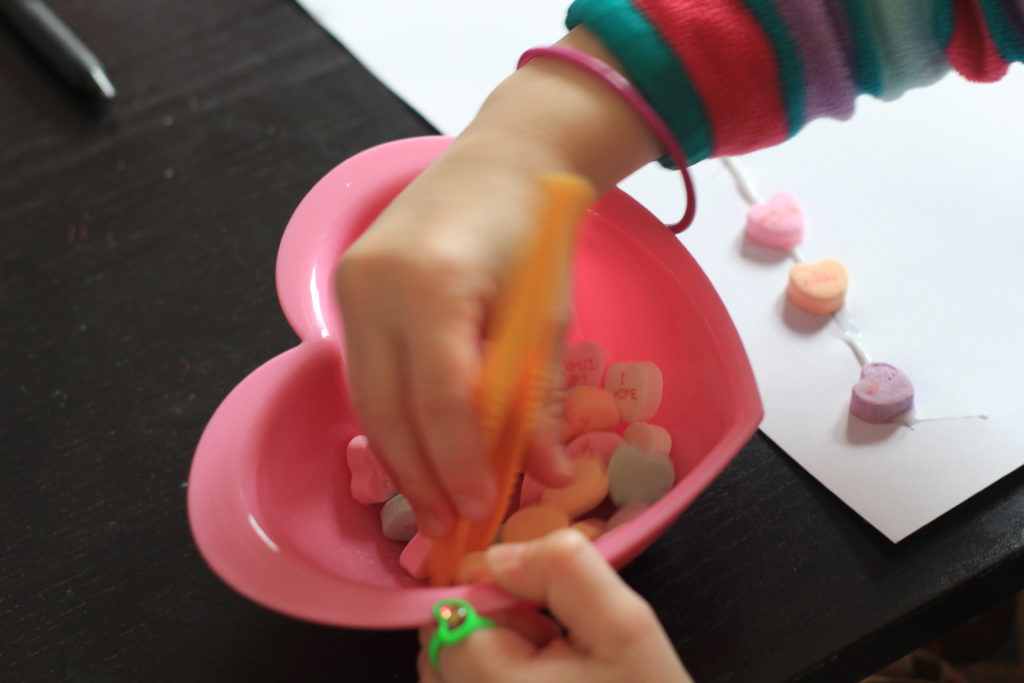 ABC Order
Write the alphabet on the hearts and have your child put them in ABC order.
So there you have it!  I hope that you can use some of these printable, and if you like them, please feel free to share this post! 🙂